Ninh Binh - Hoa Lu ancient capital
Ninh Binh is a city located at the southernmost point of the Red River Delta with many famous scenic spots such as Hoa Lu ancient capital with a heroic history, beautiful Tam Coc - Bich Dong complex, Trang An with beautiful scenery and beautiful landscape. majestic natural scenery and many spiritual tourist attractions such as Bai Dinh pagoda, Phat Diem church...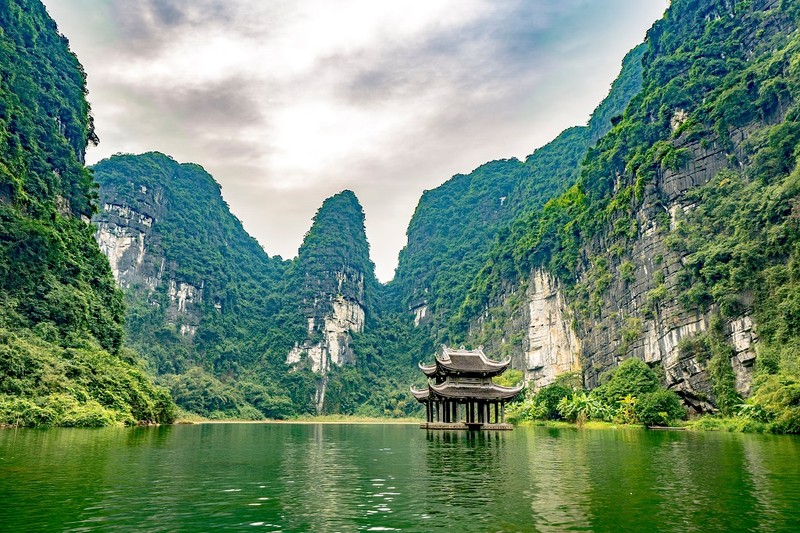 It also captivates visitors with a variety of delicious dishes. Along with that is a variety of tourism services and utilities; people are friendly, hospitable,... promises to create a trip with many unforgettable experiences and emotions.
1. Time to travel to Ninh Binh
Ninh Binh is located in a humid subtropical region with a tropical monsoon climate, with an average temperature of 23.5 degrees Celsius. It has four distinct seasons: spring, summer, autumn and winter; It is characterized by cold dry winters and hot, humid summers with a lot of rain. According to Ninh Binh travel experience, the two best times of the year to visit are spring and early summer.
Spring: From January to March, Ninh Binh has a cool climate, not too cold, little rain, convenient for sightseeing and sightseeing activities. This time is also ideal for spring travel with spiritual tourism activities such as visiting Bai Dinh pagoda, Trang An pagoda, Stone church.
Summer: During April to June, Ninh Binh's weather is usually quite cool, pleasant, not too cold, but not too hot. In the summer is the time for the airy landscape, the plants grow well, so you will have the opportunity to see the beauty of the golden rice fields in Tam Coc or the diverse ecosystem of Cuc Phuong forest.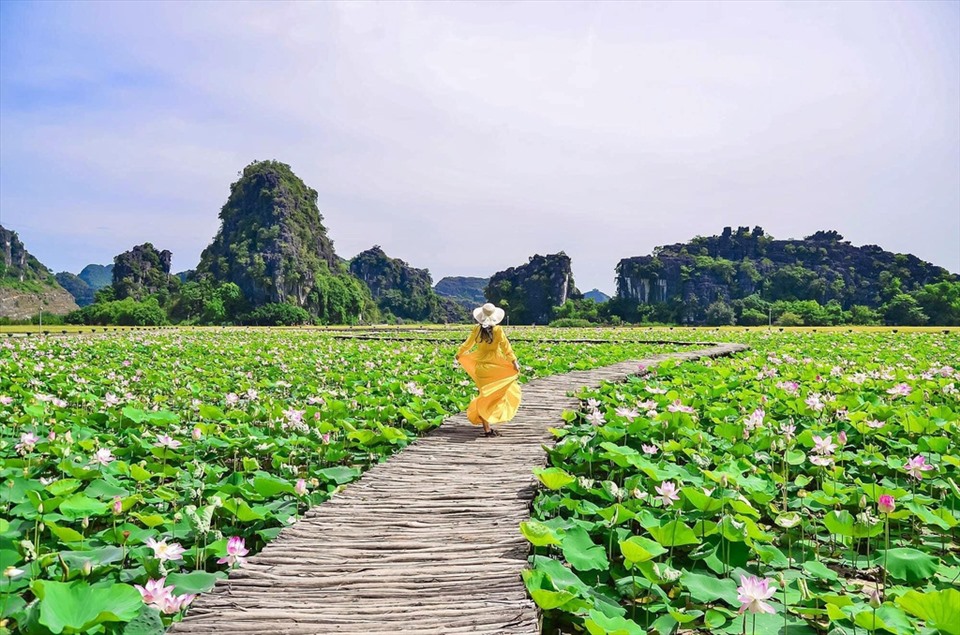 2. Natural tourist attractions in Ninh Binh
Trang An Scenic Area
With an area of over 6000 hectares, Trang An is known as "Ha Long Bay on land" with natural caves and unique limestone mountain system.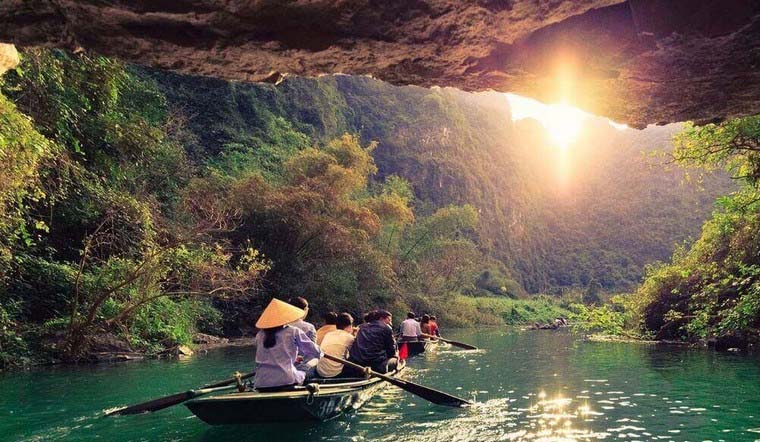 Trang An has been recognized by UNESCO as a "Dual World Heritage Site" for nature and culture since 2014 and is ranked as a particularly important National Monument by the Government of Vietnam.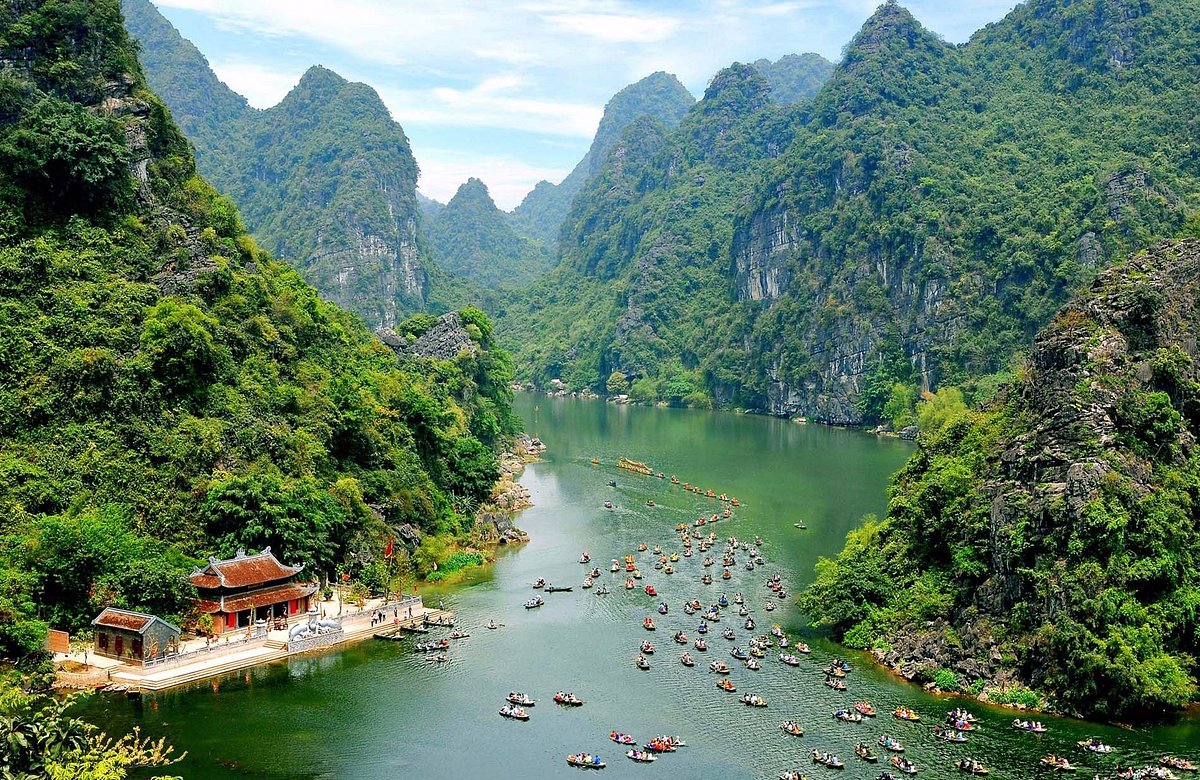 Tam Coc - Bich Dong tourist area
Tam Coc - Bich Dong tourist area is an equally famous stopover with a system of limestone caves and historical relics of the Tran Dynasty. Tam Coc - Bich Dong tourist area has a natural area of 350.3 ha, in Ninh Hai commune, Hoa Lu.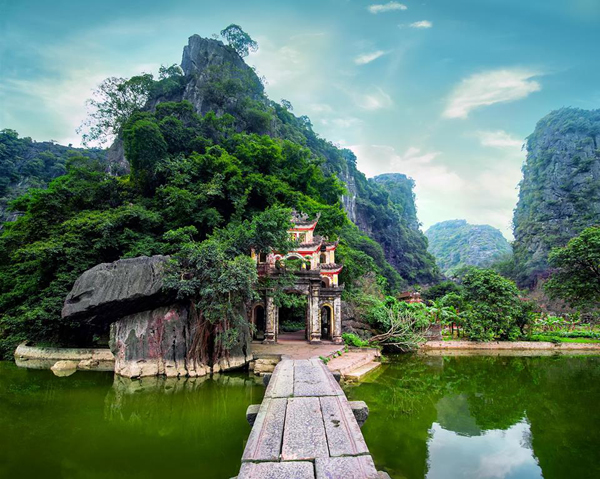 Bich Dong, which is called "Nam Thien De Nhi Dong" (the second most beautiful cave in the South), is located 2km from Tam Coc. Bich Dong, which also means "green cave", consists of a dry cave located halfway up the mountain - where Bich Dong pagoda is located, and a water cave that pierces the mountain called Xuyen Thuy Dong.
Mua Cave
Mua Cave, is an attractive "check-in" place when traveling to Ninh Binh for young people with an impressive view from the top of the mountain with the whole beautiful scene of Tam Coc area from the ripe rice fields stretching to the river scene. wide open water.
Mua Cave, in addition to its wild beauty and beautiful scenery, is also a challenging journey to conquer 500 stone steps, with the reward at the top of the mountain being a captivating natural picture.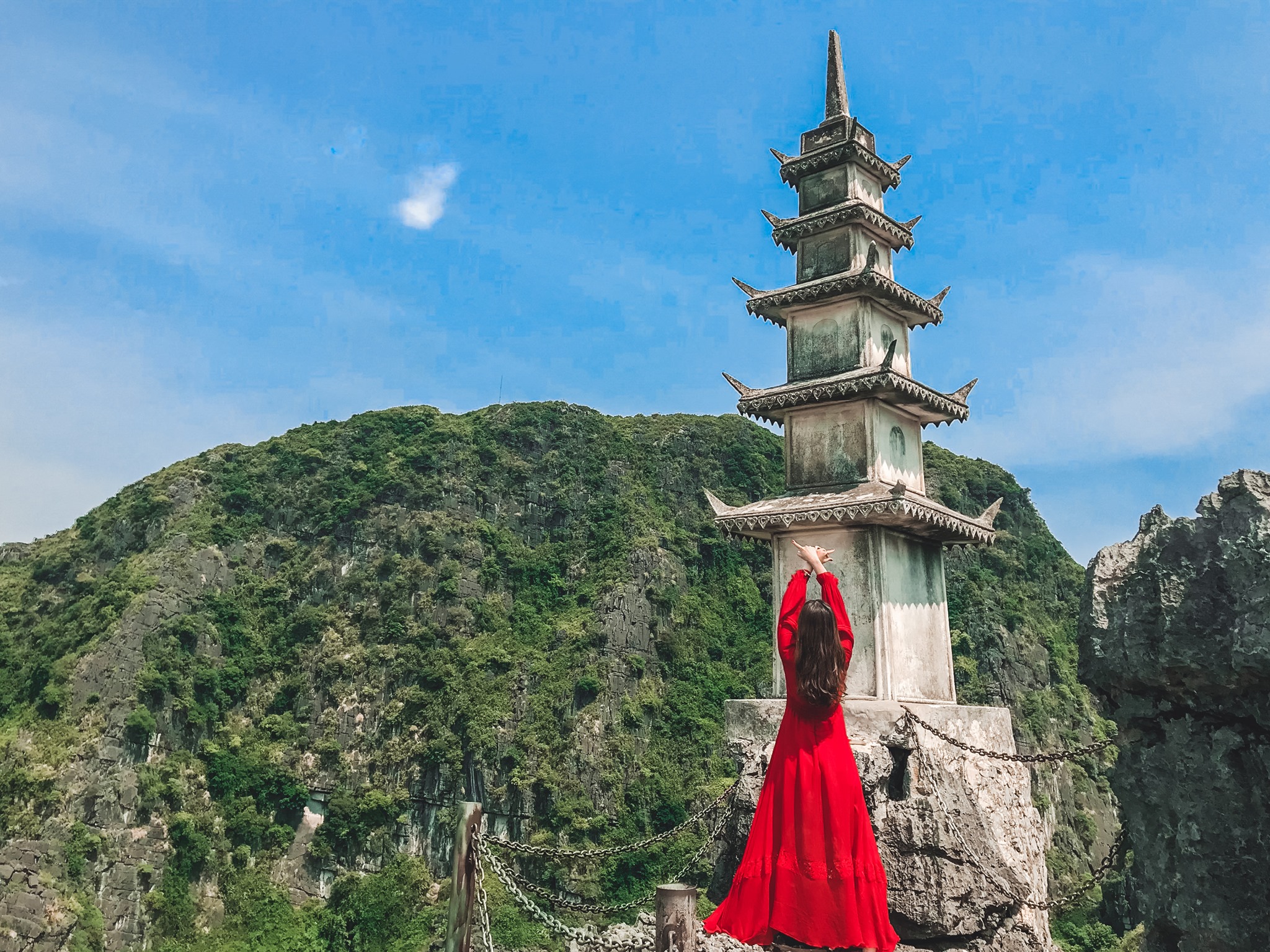 Hoa Lu ancient capital
Located in the core of 4 attractions of Trang An World Heritage complex, Hoa Lu Ancient Capital - Ninh Binh is a complex of historical - architectural relics, consisting of 3 main areas: special protection area. In particular, the buffer zone and other relics are of great significance.
With more than 1000 years of ups and downs, the current ancient capital of Hoa Lu still retains important relics from the Dinh - Le era. When visiting the ancient capital of Hoa Lu, you will be able to reflect on historical events at King Dinh temple, King Le Dai Hanh temple, Co Am pagoda, Dinh - Le tomb as well as historical - cultural relics. Important places such as Bai Dinh pagoda, Hoa Lu cave, East gate, South gate...
3. Spiritual tourist destination in Ninh Binh
Bai Dinh Pagoda
As a complex of temples located on Bai Dinh mountain with an area of ​​539 hectares including 80 hectares, Bai Dinh pagoda is divided into two areas: the new temple area and the ancient pagoda area. Bai Dinh is a spiritual complex with the largest and most unique architecture in Vietnam.
The majestic main temple roof is designed with 3 floors and 12 curved roofs in the shape of a knife head, roofed with tiles in the shape of a traditional comedic nose. The pagoda is also designed with steps decorated with stone dragons of the Ly Dynasty, a large stone yard looking directly down to the Ngoc Well.
Phat Diem Stone Church
As a cross between Eastern Buddhism and Western Catholicism, Phat Diem Stone Church is a work that creates a unique architectural impression with delicate sculptures and carvings. The architectural complex of Phat Diem Cathedral includes: a large church with four churches on either side, three artificial caves with ponds, monuments, and communal houses.
If you need any further information about Vietnam visa or Vietnam vacations, feel free to contact us at hotlines +84.903.278.853 (available 24/7). Or email us at support@govietnamvisa.com, our Customer-Care Consultants will respond within 2 hours during working time and 24 hours outside working time (GMT+7)