Vietnam visa on arrival
is the type of
Vietnam visa
that travelers pick up at arrival airport. All of the paperwork is conducted online through a travel or visa agent. After landing at one of the four Vietnam international airports (Hanoi's NoiBai, Ho Chi Minh City's Tan Son Nhat, Da Nang and NhaTrang), travelers are supposed to bring all of the required documents (passport, 2 recent passport-type photos,
Vietnam visa
approval letter, entry-exit form) and stamping fee to the
Visa on arrivalVietnam
counter in the Immigration Office to get
Vietnam visa
stamped.
In the previous article, we have provided you a step-by-step guide at NoiBai Airport (Hanoi). Continuing with our series on "How to save time doing
Vietnam visa on arrival
at Vietnam airports", today let's take a look at Tan Son Nhat Airport (Ho Chi Minh City).
Hereunder is the map of Tan Son Nhat airport, in which the red lines indicate the directions you should follow to do arrival procedures. Tan Son Nhat International Terminal has three levels.The first two levels for arrival and the third level for departure.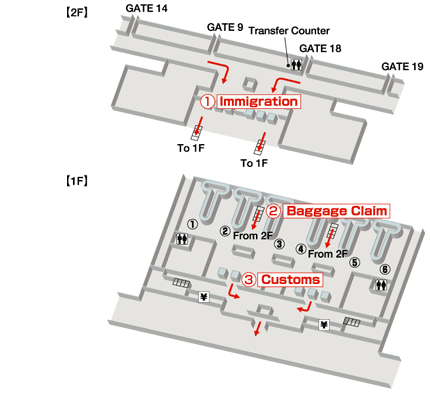 ARRIVAL LEVEL (Floor 1 and Floor 2)
On entering the arrival terminal after landing, you are on Floor 2 of Tan SonNhat airport. Immigration procedures, including picking up visa on arrival, will be carried out in this level.
(1) Find the
Vietnam visa on arrival
counter: Stepping into the immigration hall, look to your left. The counter should be at the far end of the hall.
(2) At
Vietnam visa on arrival
counter, submit passport, print-out of
Vietnam visa approval letter
, completed entry-exit form and 2 passport-type photos. Then wait for the officer to process your documents, this may take a while.
(3) When you hear your name being called out and the officer is holding your passport photo up, it means your
Vietnam visa
is ready. Pay the
Vietnam visa
stamping fee to the officer. Only cash (USD or VND) is accepted, so make sure your change your money beforehand.
(4) The officer will then return your passport (with
Vietnam visa
stamped on it) and give you a receipt.
(5) Check all information on your
Vietnam visa
again. If there is any error, report the officer right away.
(6) With the newly-stamped
Vietnam visa
, go to Immigration control
(7) Then, proceed to Floor 1 where Baggage reclaim and Customs are located.
It usually takes you 15 to 30 minutes for this whole process. However, if you find yourself behind a large group of people on a tour, it might take longer than that. But still,
Vietnam visa on arrival
is much cheaper and more convenient than
Vietnam Embassy, Consulate visa
, so a few minutes of waiting would be alright. Ifimpatience is not your virtue however, you can use our Airport SpeedUpservice in which our employee would do all the immigration work for you.
To apply for
Vietnam visa on arrival
with us, please kindly follow these steps:
Step 1:
Fill in the
Vietnam visa
online application form
Step 2:
Make online payment
Step 3:
Receive
Vietnam visa
approval letter via email, print it out and get
Vietnam visa
stamped at arrival airport.
For reference about our Airport SpeedUp service, please
click here
.
Should you need any further information about Vietnam visa or Vietnam vacations, feel free to
contact us at
hotlines +84.903.278.853
Or email us at
visa@govietnamvisa.com
, our Customer-Care Consultants will respond within 2 hours during working time (Vietnam time GMT+7).