Dubbed the dreamy Da Lat city, this place becomes the ideal choice when attracting domestic and international tourists to come here. Surely tourists will not find a second place like in Dalat. Going to other places may need seasons, but going to Da Lat alone you can go all year round. It will be great if you can explore all the attractive tourist attractions in Dalat below.

1. Fresh Garden tourist area – Dalat
Address: 90B Van Thanh, Ward 5, Da Lat City.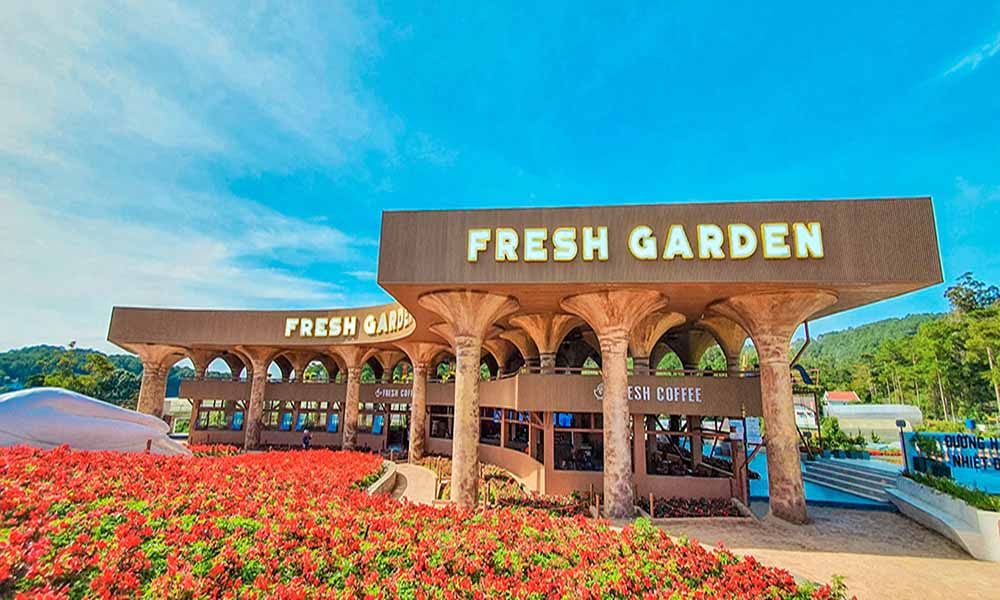 Each flower season at Fresh Garden has its own unique color and beauty. But the common point is that each flower season here makes visitors fall in love and freely save the most beautiful check-in moments.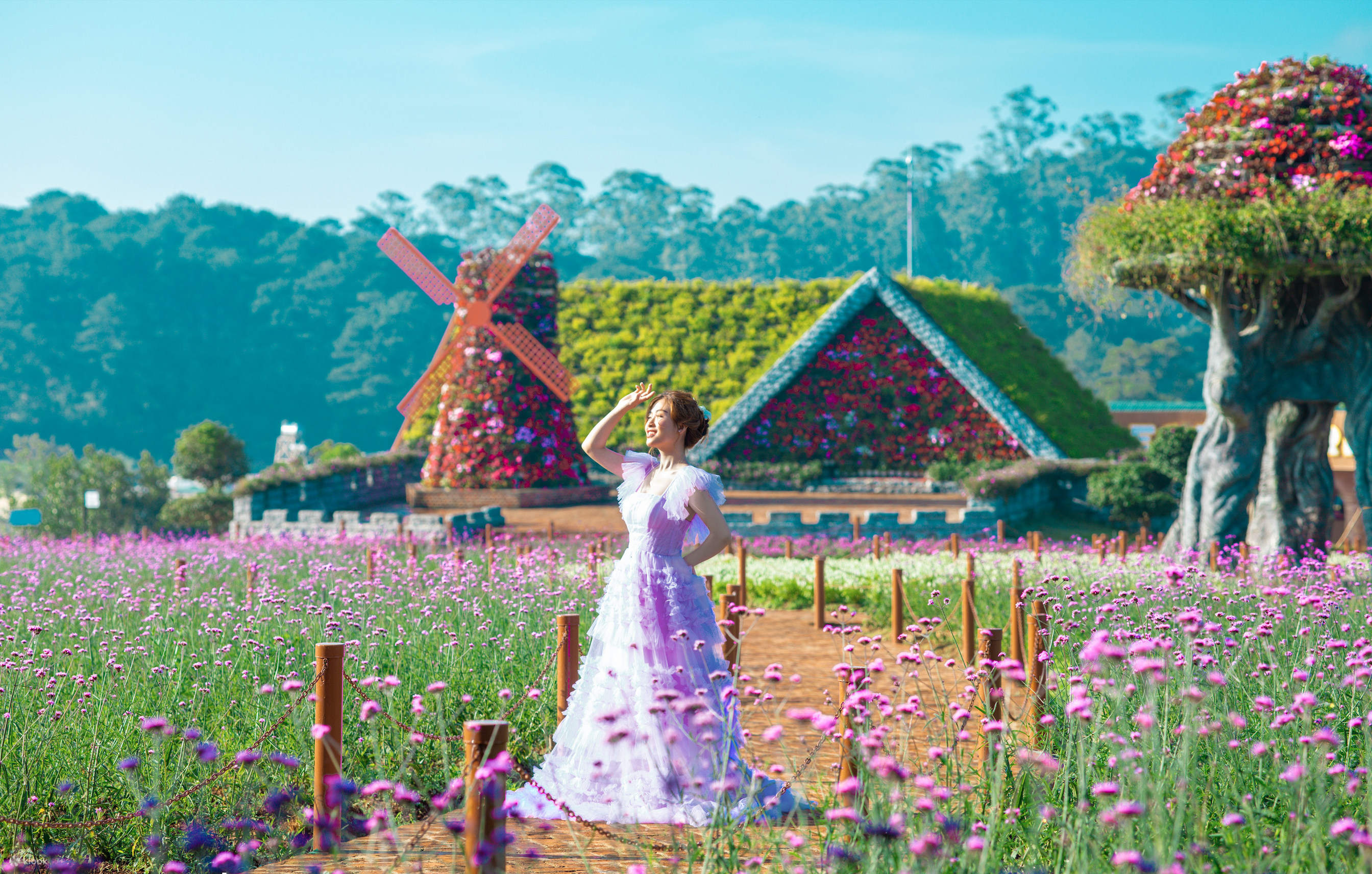 Coming to Fresh Garden Dalat, immersing yourself in nature and the colors of flowers here will surely help you "refresh" your body and spirit.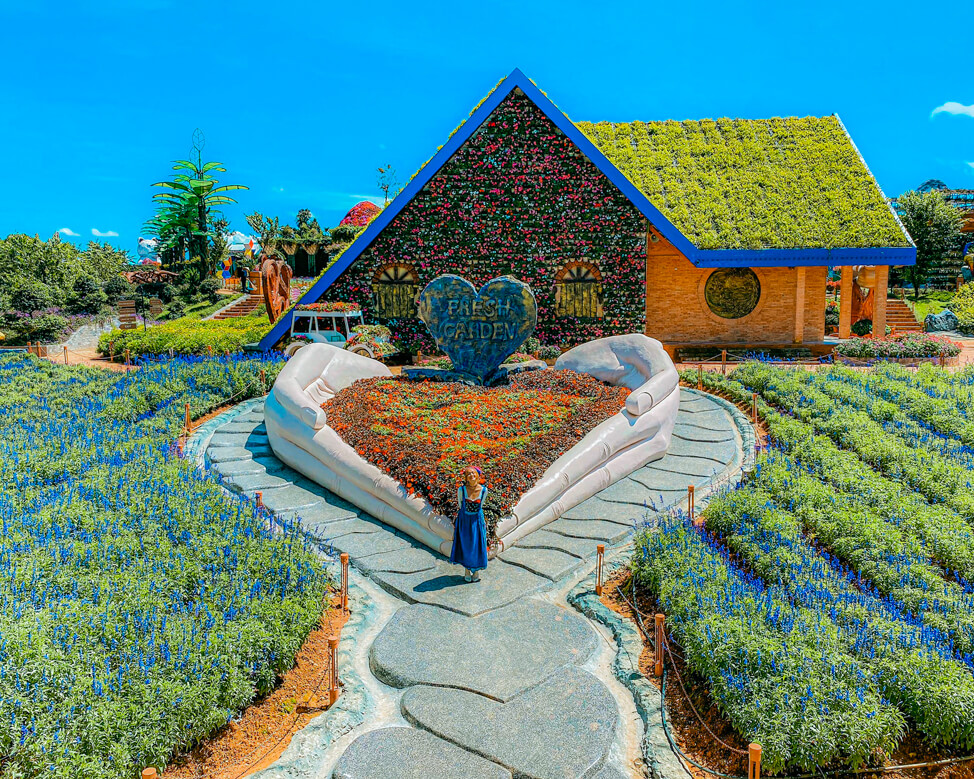 2. DaLat Fairytale Land – Fairy Tale Village & Vinh Tien Wine Cellar
Address: No. 81D Hoang Van Thu, Ward 5, Da Lat City.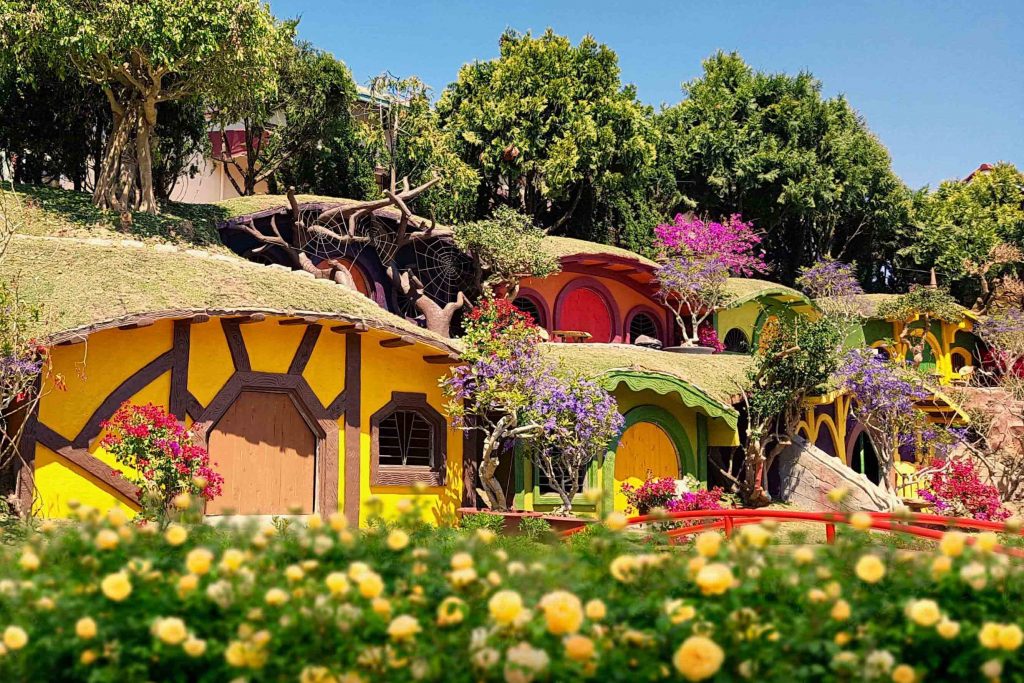 Nestled among pine forests, the mountain of Da Lat has a friendly dwarf village. A fairy land that surprises everyone when coming here. When entering, visitors will feel the fresh and cool atmosphere, a magical and mysterious scene, giving you a sense of curiosity, wanting to explore the mysterious beauty of this place. The scene is simulated exactly like in fairy tales. Stepping into this place will make you surprised as if you are drifting into the land of Disney Land.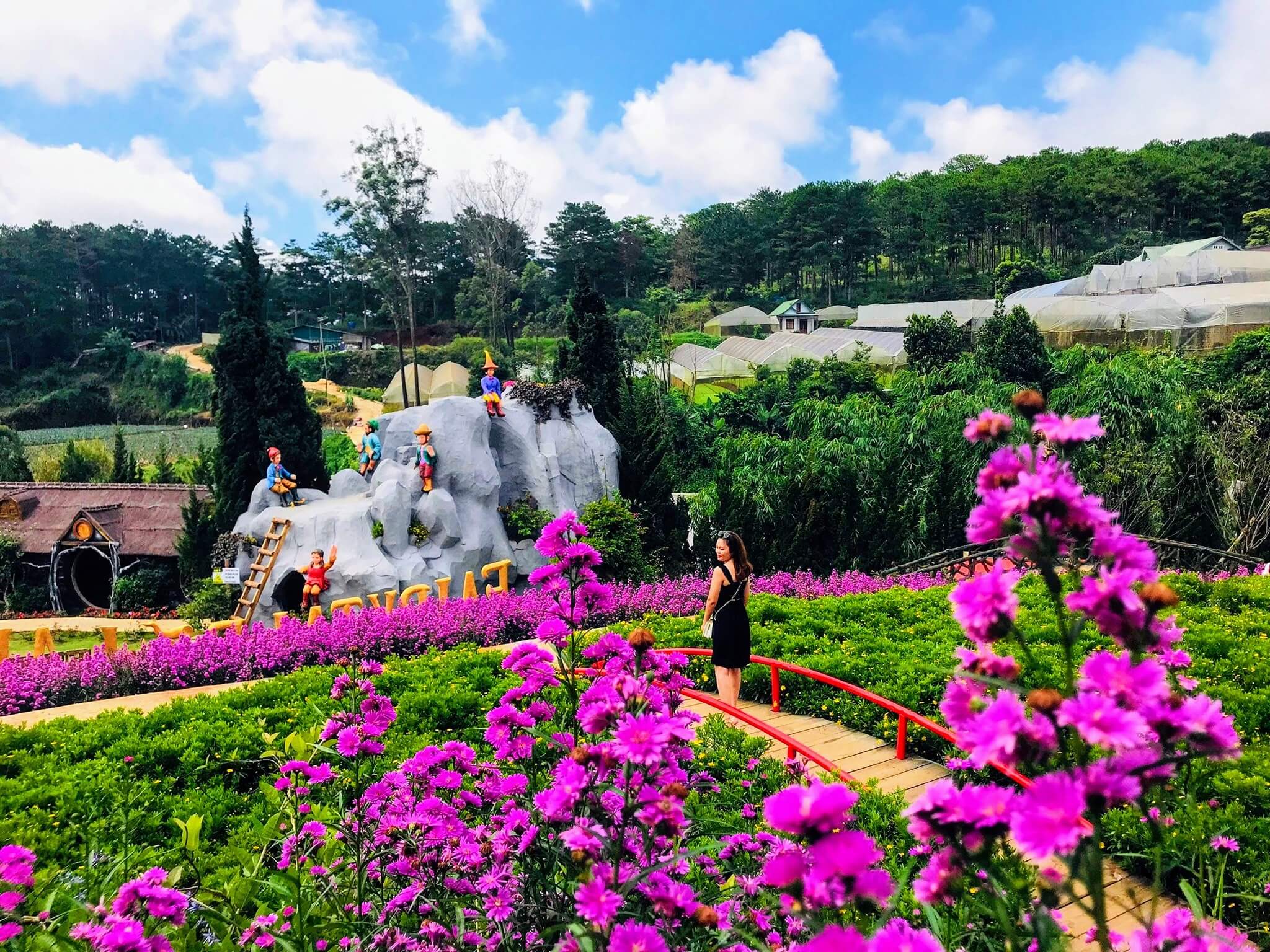 In addition, you can also visit the production process of wine lines at Vinh Tien Wine Tunnel. This tunnel has a length of 100m, displaying more than 10,000 bottles of wine, you will have the opportunity to learn how to make local wines, try wines: Red Wine, White Wine, Sweet Wine and Grappa wine, Eastern wine Cordyceps…
3. Lam Vien Square
Address: Tran Quoc Toan Street, Ward 1, Da Lat City.
The strange attraction of this unique project has created a new look for Da Lat city. Built in early 2016, Lam Vien Square quickly became an attractive destination not only for domestic and international tourists but also a virtual living spot for young people to come here.
The point that impresses visitors is the giant wild sunflower flower, which is designed slightly tilted with colorful glass, which looks really fancy. Going deep inside the giant flower, visitors will be overwhelmed with the space inside with beautifully decorated cafes and bars serving visitors to visit Da Lat.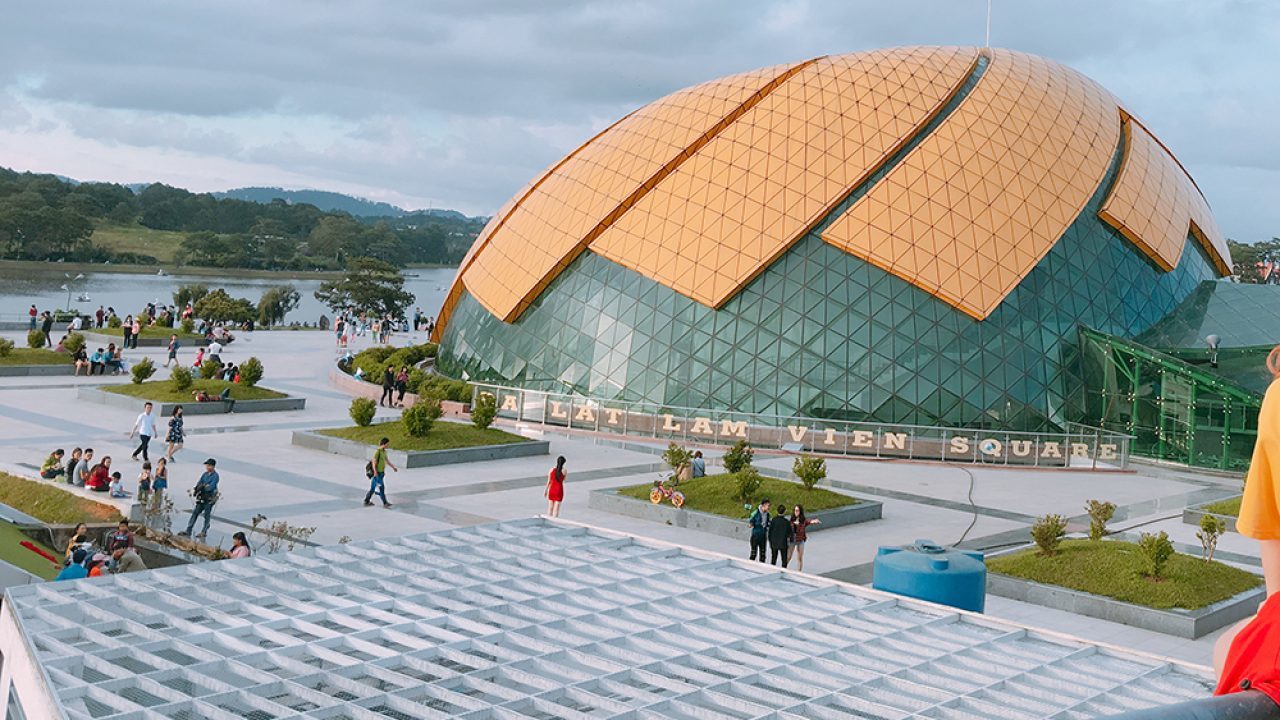 4. Lang Biang Mountain
It is located at an altitude of 2167m above sea level. Looking from a distance, visitors will see that Lang Biang Mountain has 2 mountains that the people here named "Nu Ong and Nui Ba".
You will feel as if you are entering a fairy paradise with rows of pine trees and wildflowers stretching on both sides of the road. The higher you go, the larger the scenery becomes, covering the whole sky with drifting clouds, mists covering the mountains and hills, creating the feeling that tourists and Lang Biang's nature are closer to each other than ever.
5. Dalat Strawberry Garden
Coming to Da Lat, every visitor wants to see the gardens of ripe strawberries. As a famous specialty of Da Lat, just come here, visitors will see everywhere there are ripe strawberries.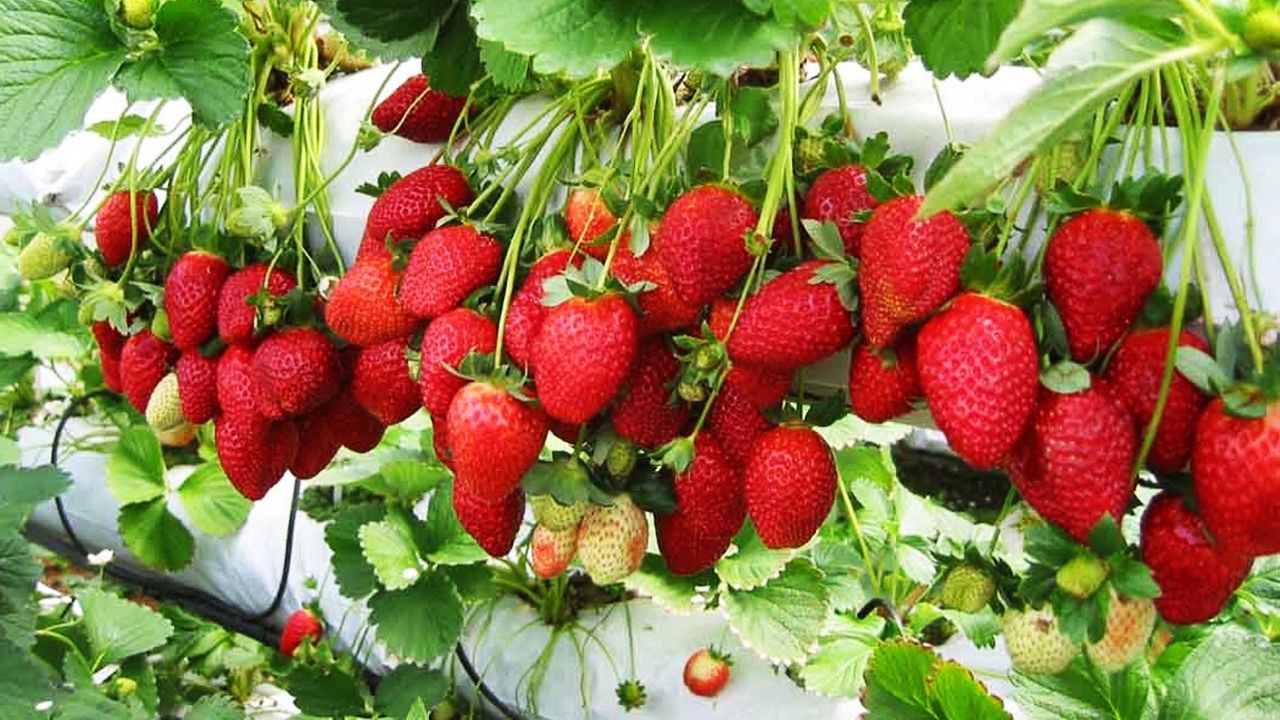 Strawberries here are grown on a trellis or in a bed style. Visitors can choose to pick the strawberries they want. Revealing to pick delicious strawberries, visitors should choose strawberries hidden in the leaves, plump, ripe red fruits.
If you need any further information about Vietnam visa or Vietnam vacations, feel free to contact us at hotlines +84.903.278.853 (available 24/7). Or email us at support@govietnamvisa.com, our Customer-Care Consultants will respond within 2 hours during working time and 24 hours outside working time (GMT+7)