PayPal is a common and popular way to send and request payments all over the globe. You can easily buy Vietnam visa by logging into your PayPal account instead of using a credit card..
There are 2 ways to pay through Paypal:
If you have a balance in your PayPal account, the funds will be taken from your balance before debiting the remaining funds from your bank account, credit or debit card.
If you don't have a PayPal account, you can still pay for purchases with PayPal using your credit or debit card.
1. How to send money through PayPal using your credit card (without account):
If you don't have paypal account, we you totally can use VisaCard, MasterCard, Amexcard, Discovercard and pay as usual.
Step 1
: After received a money request or invoice from Govietnamvisa.com, click on the link to be taken to the Paypal payment page.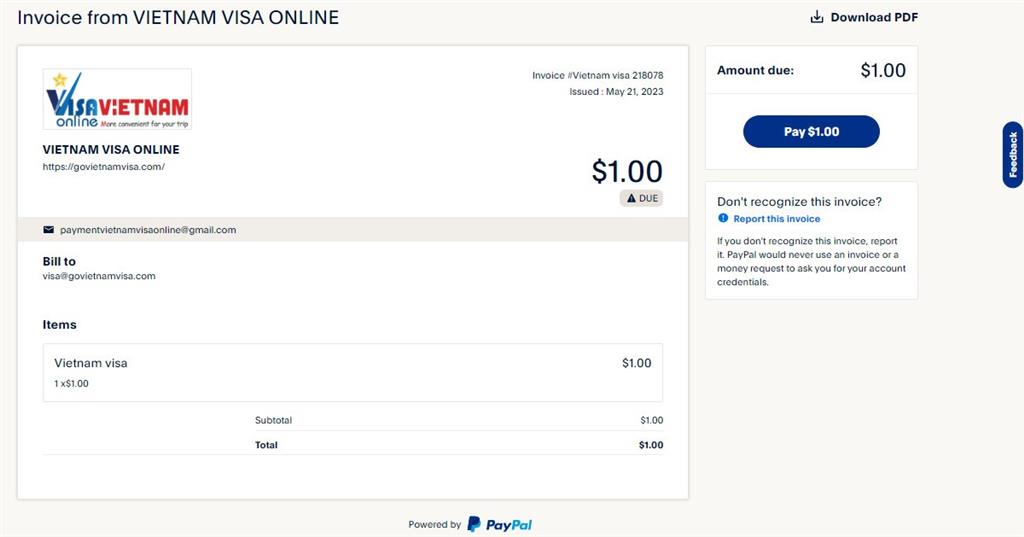 Step 2
: Click on the "Pay $xx" sign and select the second option as "Pay with my Debit or Credit Card"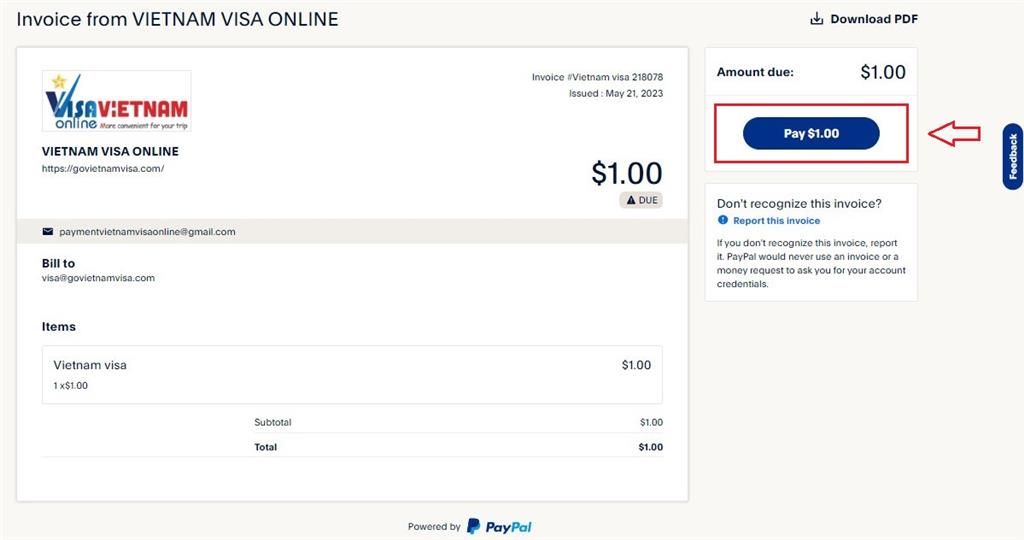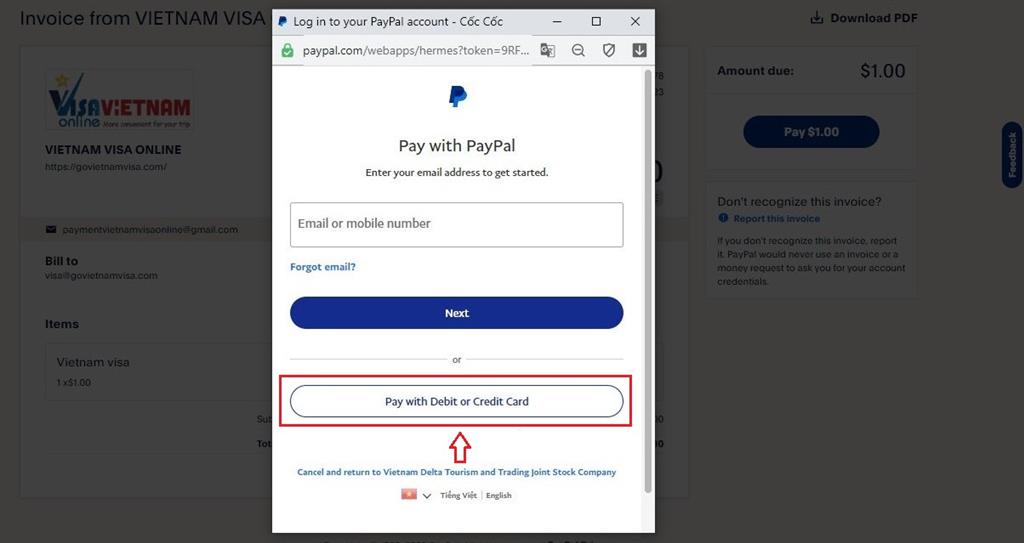 Step 3:
Enter your email address and continue to Payment: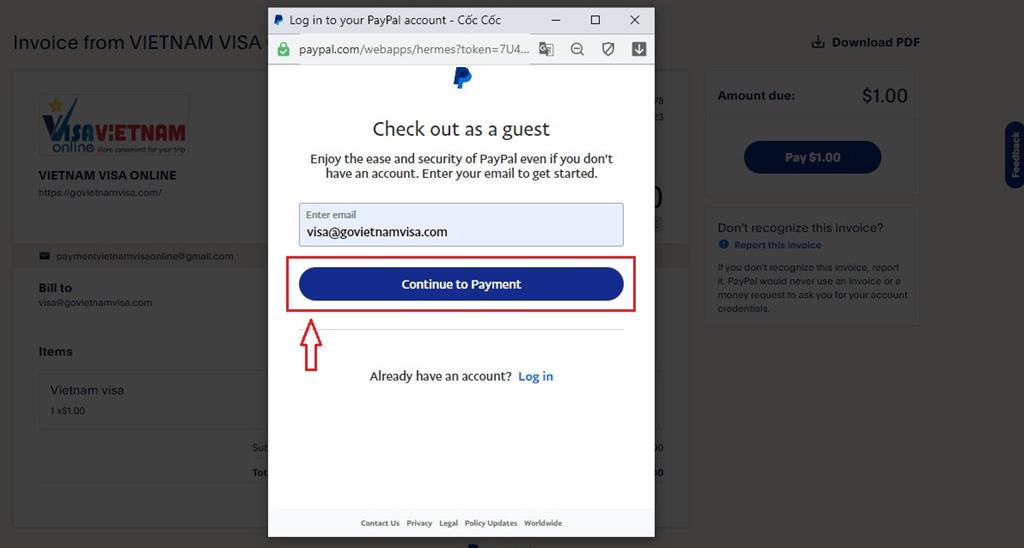 Step 4:
At the payment step, you fill in the information of your bank card such as: country, email address, card number, expiry time, CSC code, create your password, date of birth, ID type and ID number.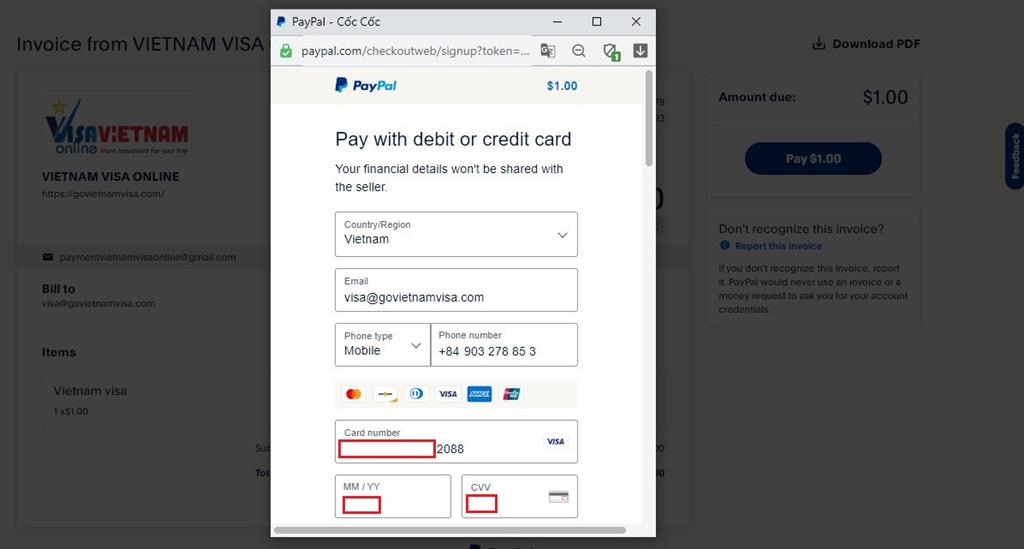 Note to choose the correct currency to make the payment is USD.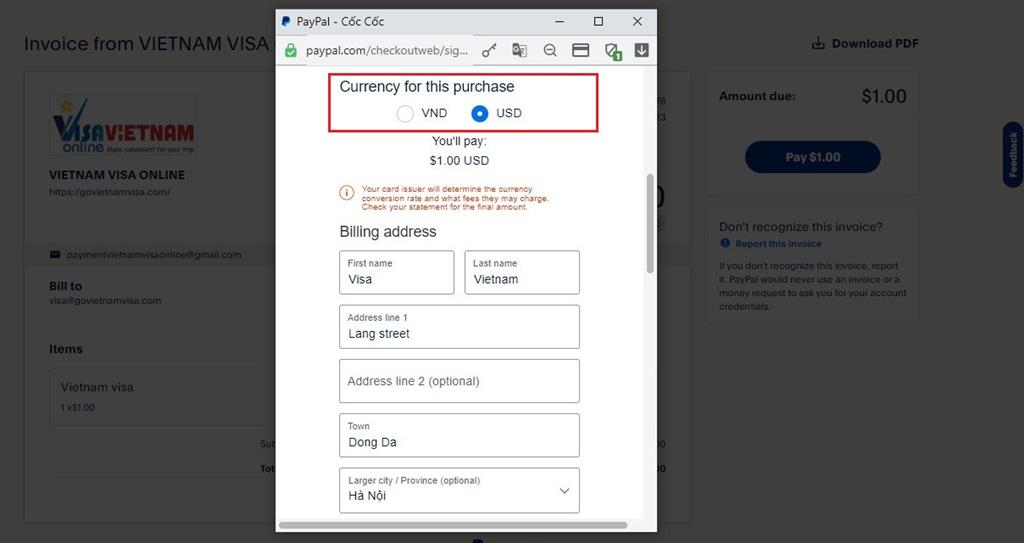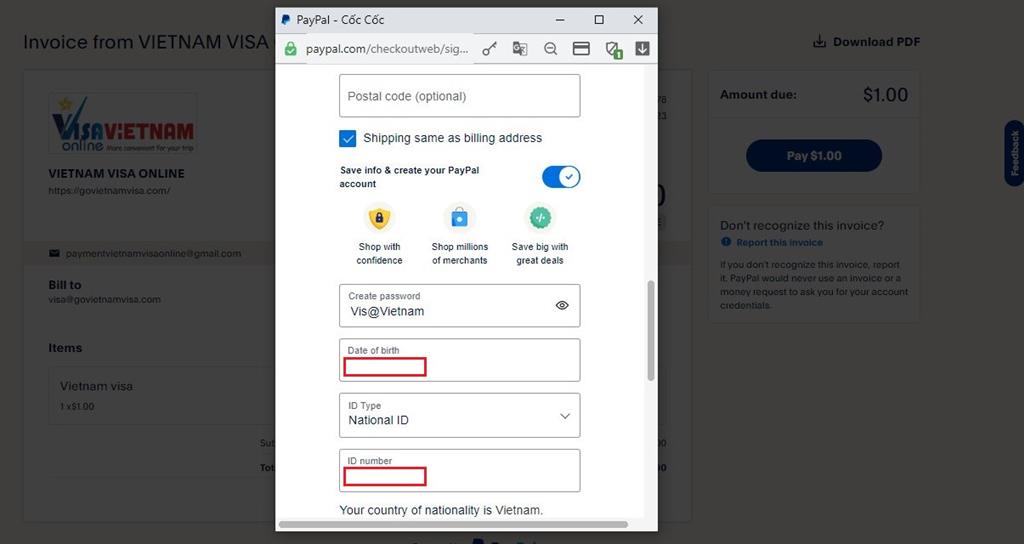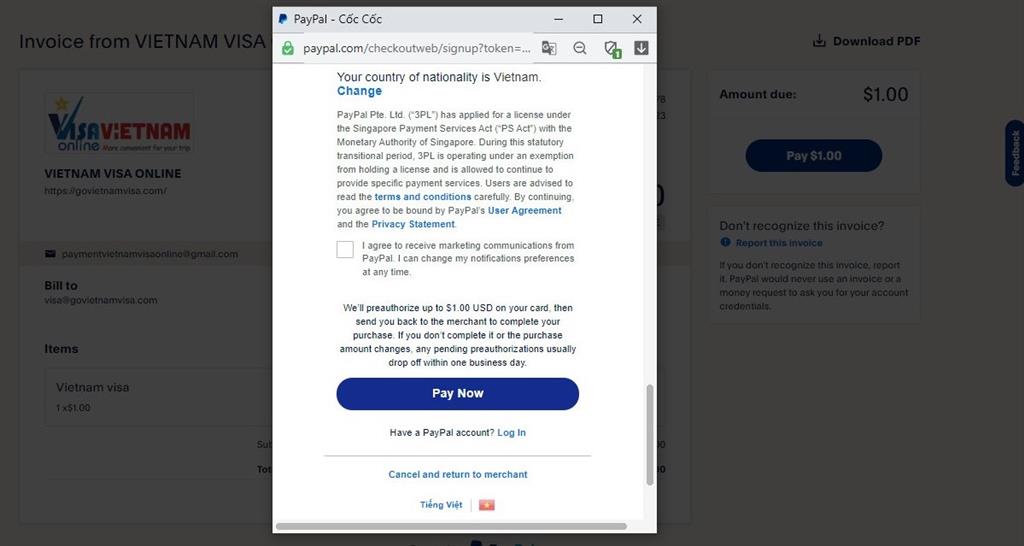 Step 5:
Click on "Agree to receive marketing communications from PayPal" first and choose "Pay Now".
With this Credit or Debit card payment via PayPal, you don't need to enter a transaction confirmation code so you can make payments anywhere and no need to receive a confirmation code by phone number.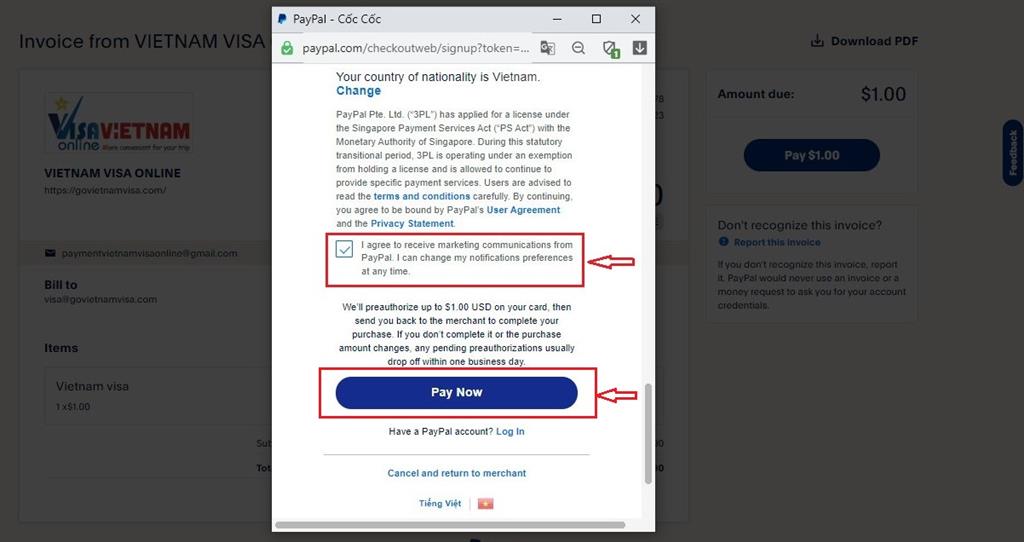 Wait for a moment to complete your transaction. We will receive your payment immediately after you complete it.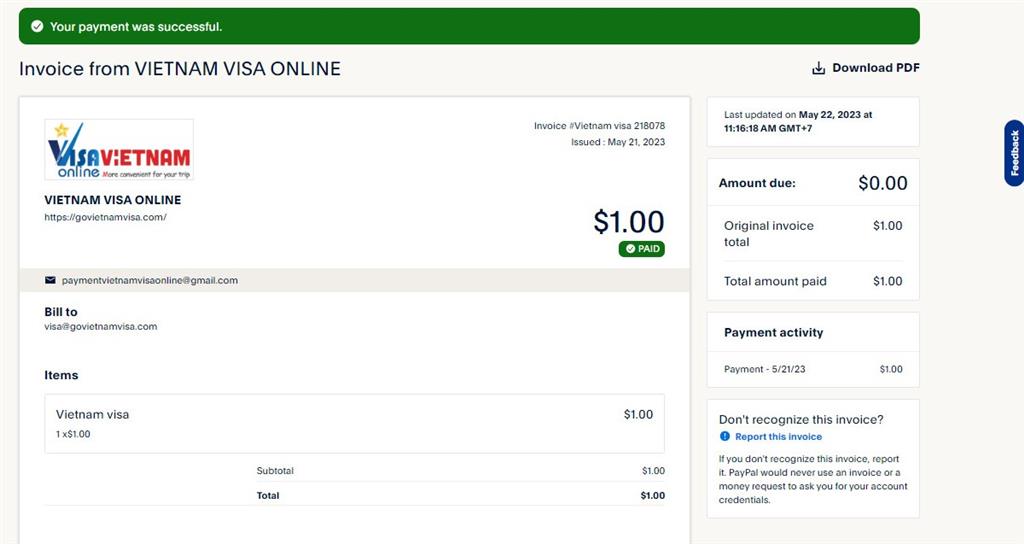 2. How to send money through PayPal using your account:
You can make a payment easily using PayPal if you've received a money request or invoice from Govietnamvisa.com. Or you can set up the payment yourself by sending to send visa fee to our account at:
https://www.paypal.me/VietnamVisaPayment
or send money to our Paypal account: paymentvietnamvisaonline@gmail.com
Step 1: Start the payment
If you've been emailed an invoice or money request, you'll simply need to click on the 'View and pay invoice" button to get started.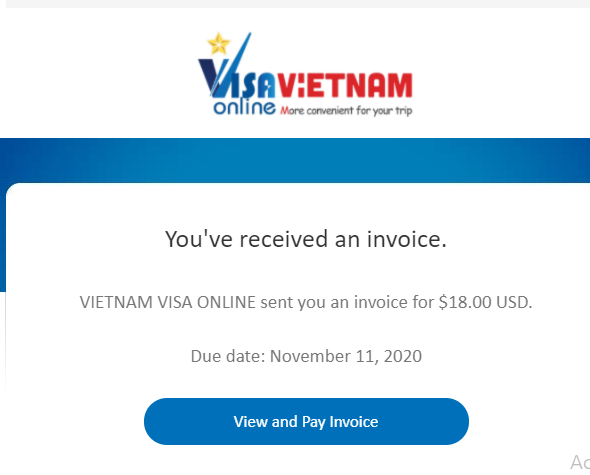 If you need to start the payment yourself, you'll need to log into your PayPal account and then click the 'Send and request' button.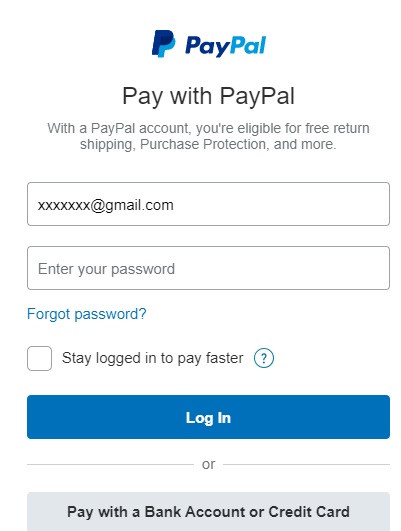 Step 2: Enter the details for the recipient - Govietnamvisa
You're asked to input the email address of Govietnamvisa paymentvietnamvisaonline@gmail.com
Step 3: Confirm the amount and currency
You'll then need to confirm the amount you want to pay, and the currency to use. This is done using the drop down boxes — just click on the currency you want.
Step 4: Hit confirm, and choose a funding source
Confirm that the payment has been entered correctly, and choose how you wish to pay. You can usually choose between a few different funding sources at this stage — using PayPal balance, a linked bank account, or a credit or debit card.
Step 5: Review the payment and you're done
Once you've added your funding source, you're more or less done. Click the button to confirm the payment, and you'll receive an emailed receipt showing the payment has been processed.
3. How to safe are my credit card details?
For secure online payment, we use Secure Socket Layers (SSL) from Comodo Inc to keep your credit card details safe. In no cases will your debit/credit card details be transmitted unencrypted over the internet. For more details, please read through our privacy policy.
If you might fail to make payment during the application, there may be a few possibilities:
There might be some computer error.
You have reached credit limit.
You have entered incorrect card expiration date.
You have entered incorrect Visa Verified password / MasterSecure Code.
Your card has expired.
If you need any help, don't hesitate to contact us by email visa@govietnamvisa.com or hotline: +84.903.278.853 to listen to our Customer-care consultants' instructions.