Vietnam in December: Weather, Where to Go & Itinerary
December and January are reckoned among the best months to visit Vietnam. These months share the same features in terms of weather conditions and temperature throughout the country.
Both the north and south experience perfect weather conditions, while the central regions see less rain towards the end of the month. Best choices are the beaches far in the south, mountainous towns in the north and a few select destinations in the Central part.
Read on to see a regional weather review and top picks for places to visit in Vietnam in December (and January as well).
I. Vietnam's weather in December
In a nutshell:
North Vietnam: little rain, moderate temperatures (average: 19°C). Mountainous areas can be cold at night.
Central Vietnam: less rain, possibility of storms, dropping temperatures (average: 24°C). The highlands of Dalat can be cold at night.
South Vietnam: blue skies, plenty of sunshine, virtually no rain. Temperatures are around 26°C.
In details:
1. In North Vietnam: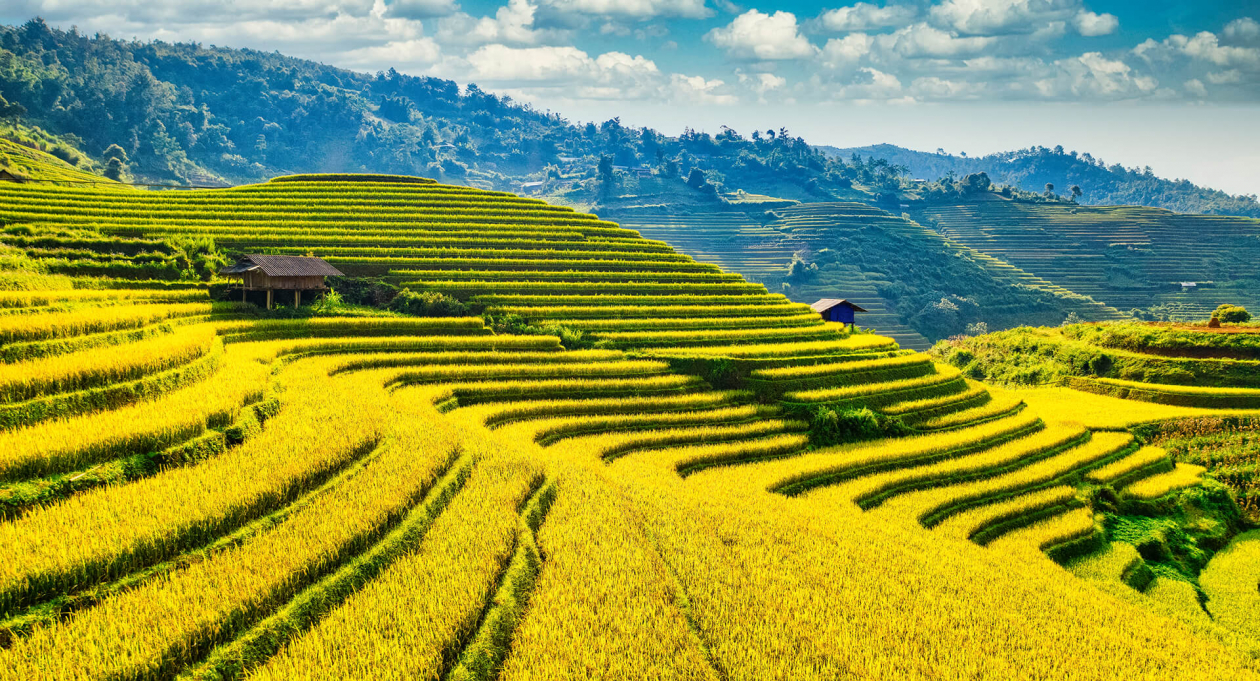 December is among the winter months in the North, with an average temperature of 18-19°C. There is a huge gap between the temperatures day and night, with lows reaching a flat 0°C in mountainous areas such as Sapa, Mu Cang Chai and Ha Giang. Snow is expected but not too common.
Hanoi, on the other hand, experiences much more pleasant weather, with very little rain and cool breezes.
What to wear in North Vietnam in December:
Warm outfits such as jeans, track pants, long-sleeved shirts and jumpers are the basics for winter in North Vietnam. If you're going for a hike, wear a pair of good hiking shoes and a waterproof jacket. A raincoat will come in handy some time.
2. In Central Vietnam:
The rain gradually decreases towards the end of the month. Stormy weather can be expected in the first half of December, while the latter half sees more sunshine. Hue and Hoi An reach the lowest temperatures in the year with the average around 24°C. Nha Trang sees dropping rainfall towards the end of December, while Dalat is perfectly dry and sometimes cold at night.
What to wear in Central Vietnam in December:
It will be warm during the daytime and chilly at night in Central provinces, thus long sleeves, long pants and jumpers will be needed in late night. For the beaches, feel free to put on your best summer outfits: sun hats, sundresses, sunglasses, flip flops and beach shirts.
3. In South Vietnam: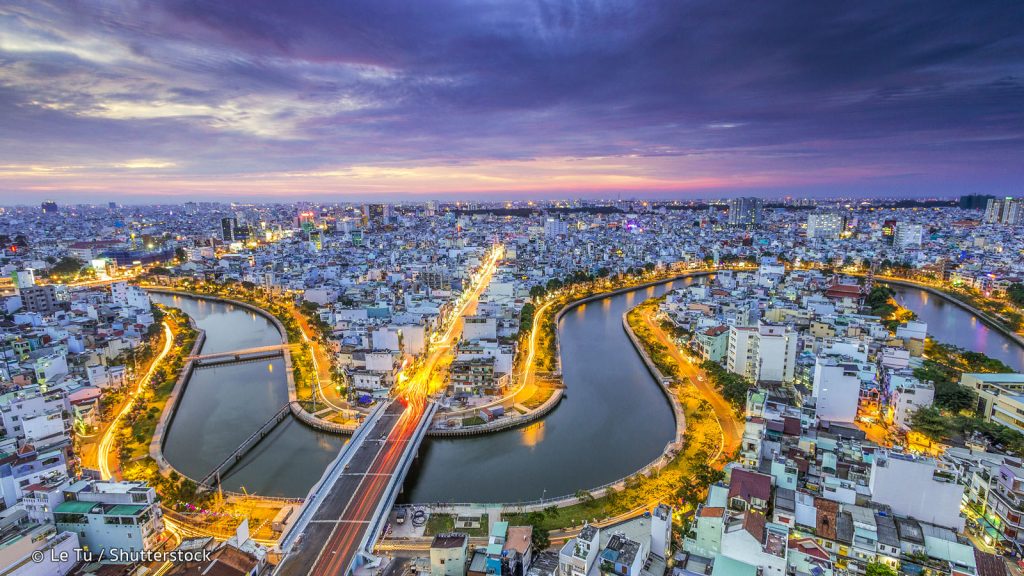 The beaches of Phu Quoc islands, Mui Ne and Con Dao enjoy lovely sunshine and warm temperatures around an average of 26°C. Ho Chi Minh City is slightly cooler with low humidity.
What to wear in South Vietnam in December:
It will be warm and sunny in all provinces of South Vietnam in December. All sorts of summer outfits will be needed, including sun hats, sundresses, beach shirts and flip flops. Remember to put on some sunscreen too.
II. 11 Best Places to Visit in Vietnam in December
Area
Destination
Why you should visit
North Vietnam
Sapa
Snow and terraced paddy fields
Moc Chau
Blooming wildflowers
Ha Giang
Snaking paths, buckwheat flowers, Dong Van Sunday Market
Central Vietnam
Hoi An
Lantern-lit old houses
Mui Ne
Sandboarding and hot air balloon riding
Dalat
Pink grass hills, blooming wildflowers and giant Christmas tree
South Vietnam
Ho Chi Minh City
Cathedrals, museums, markets and shopping malls
Mekong Delta
Floating markets, orchards and cajeput forests
Phu Quoc island
kayaking, snorkeling, diving, starfish watching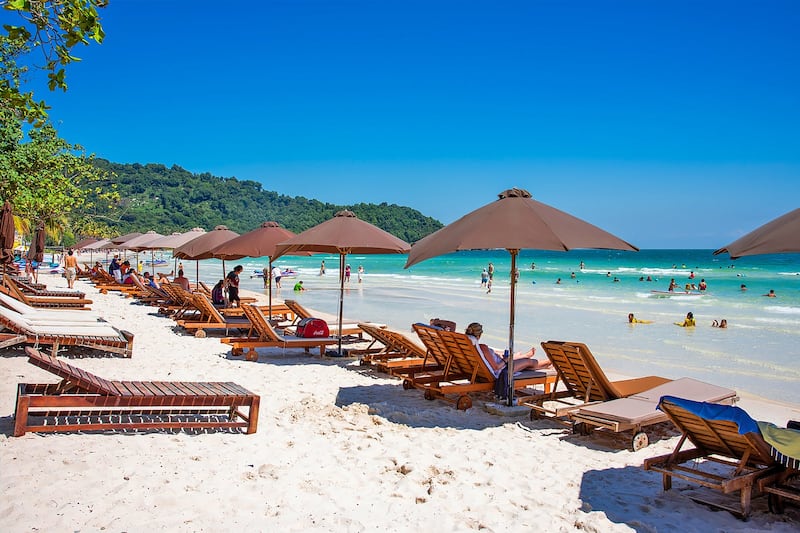 1. In North Vietnam:
1.1. Sapa
Expect to catch Vietnam's only flakes of snow in Sapa in December. The peak of Fansipan the highest peak in Indochina is likely to be topped with snow in the coldest days. Trekking Sapa over the dramatic mountain ranges and green terraces is also a sound option. Some parts of the trails can be dangerous; you are recommended to journey with local guides. They will delightfully show you local homes and offer you the mouth-watering offerings of Dao and Hmong ethnic minorities.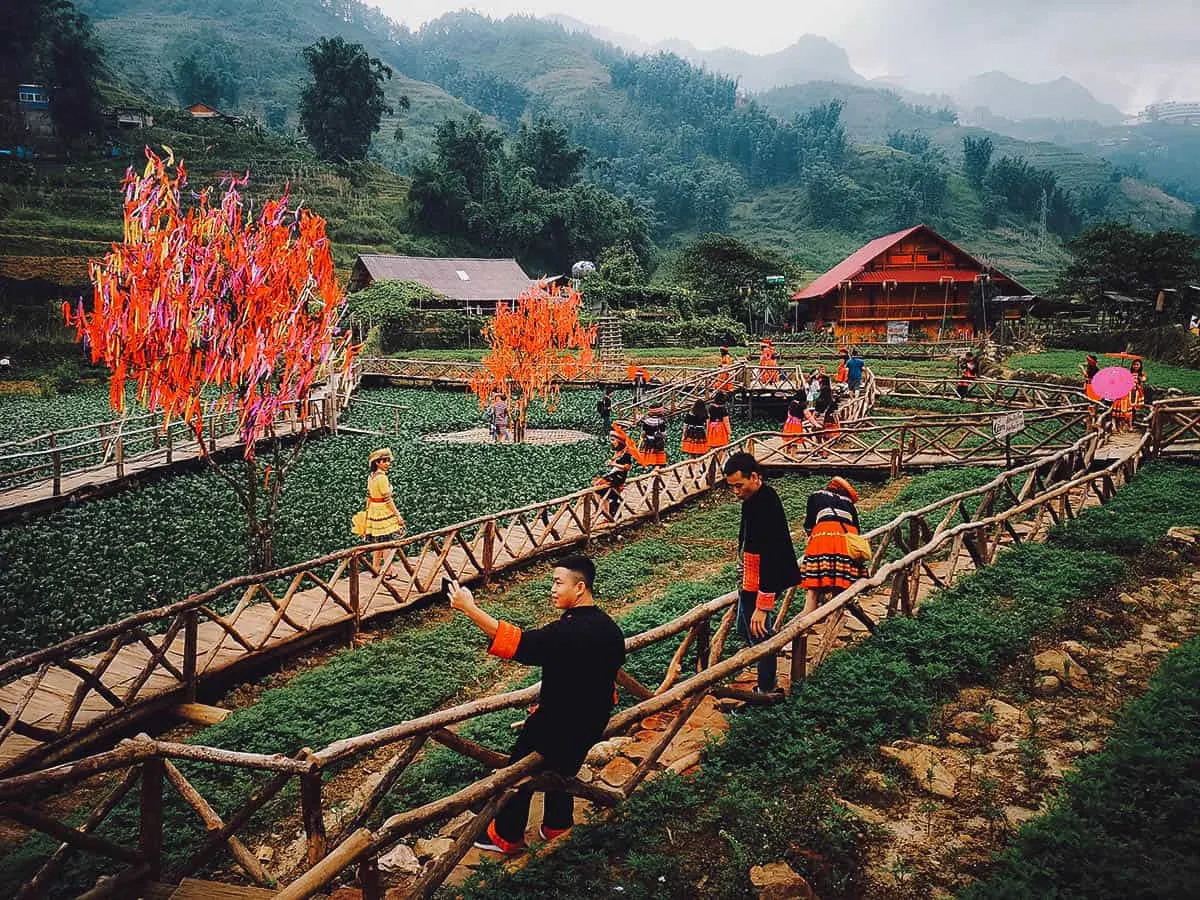 1.2. Moc Chau
If flowers are what you're after, you have to come to Moc Chau in December. The picturesque Moc Chau plateau will be flourishing with wildflowers of all sorts: mustard flowers, plum flowers, peach blossoms and sunflowers. The valleys will be beautifully covered with beds of flowers, but not for long. Ba Phach Village, Pa Co, Tan Lap and Kia Cave are the ideal places for flower-hunting.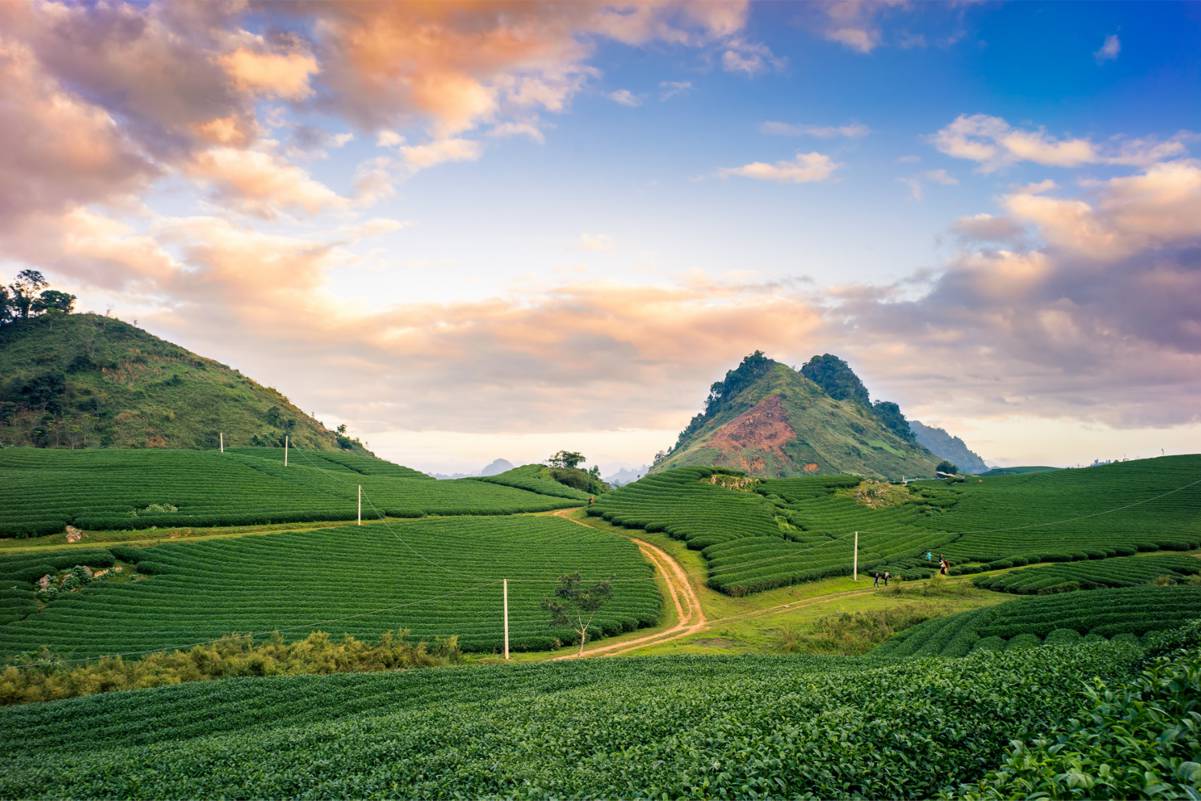 1.3. Ha Giang
The snaking paths of Ha Giang are the dream of adventurous motorcyclists. In December, the views are awesome. Let the winter breezes blow away all your worries while local homes, beds of buckwheat flowers and jungle-topped mountains whizz by. Shopping at Dong Van Sunday Market is an indispensable activity for those looking to discover ethnic identities.
2. In Central Vietnam:
2.1. Mui Ne
Mui Ne is a fishing village in the south coast and best known for its beautiful sand dunes. There are various choices on offer, including swimming, windsurfing, kitesurfing and sailing, but the top recommended activities are definitely sandboarding and hot air balloon riding. It's best to spend an entire afternoon sand boarding at the giant White and Red Sand Dunes and finally sit down to watch the sunset. You'll feel like a lost merchant wandering in the vast golden Sahara Desert. The beaches of Mui Ne will be basking in sunshine in December.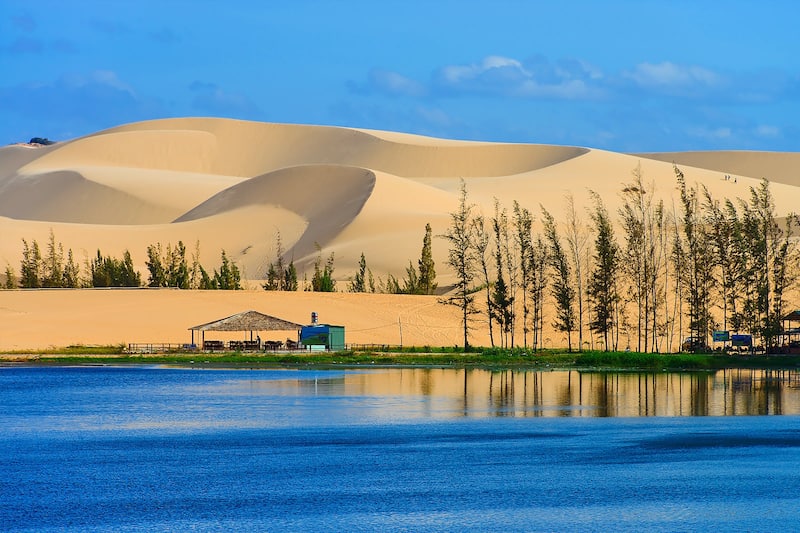 2.2. Dalat
This beautiful plateau city is at its best in December, when the rainy season ceases and the dry, chilling season slowly takes over. The clear, blue skies will add up to the breathtaking beauty of pink grass hills and valleys of wildflowers. Plus, the city will be all litten up with a huge Christmas tree. The colorful lights and bright colors during Christmas and New Year is one of best things about Dalat in December. Cold nights can be expected but not too common.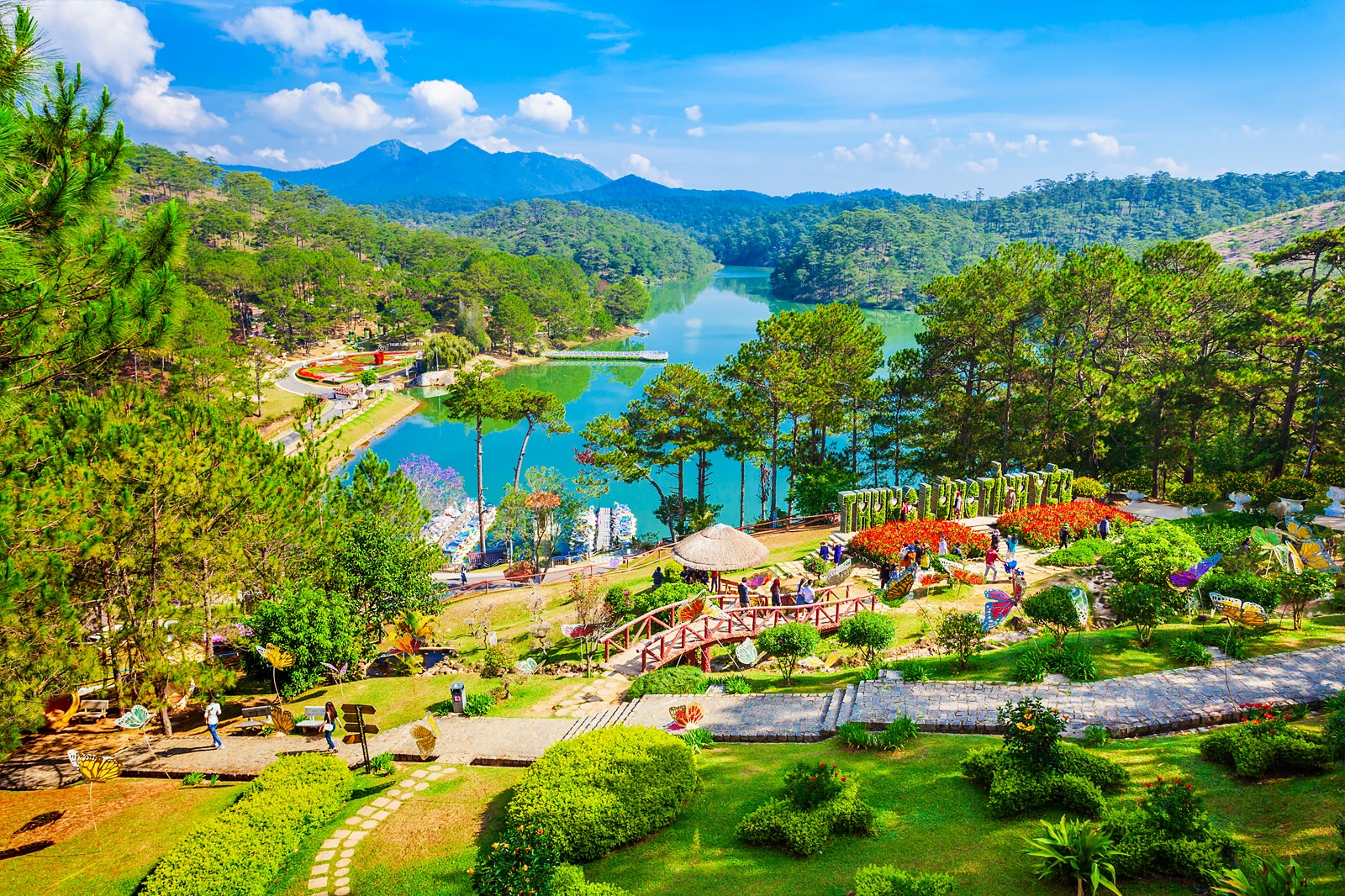 3. In South Vietnam:
3.1. Ho Chi Minh City
Ho Chi Minh City is mostly hot and humid all year round, but it will be slightly cooler during December. Temperatures average around 26°C while humidity drops to a moderate level, making it a wonderful time to walk the streets without sweating buckets. Cathedrals, museums, markets and shopping malls are some sound options to choose from, especially on Christmas days. This vibrant, sleepless "Pearl of the Far East" will never dare to disappoint.
3.2. Mekong Delta
Mekong Delta is a solid must-see if you ever come to Southern Vietnam. The best things to see in the rustic provinces of Mekong Delta include floating markets, orchards and cajeput forests. Featuring numerous rivers, canals and swamps, Mekong Delta hosts the most unique life on water customs in Vietnam. While all the fun activities are done outdoors, December is a spectacular time to check out the Mekong Delta, when both temperatures and humidity levels are acceptable.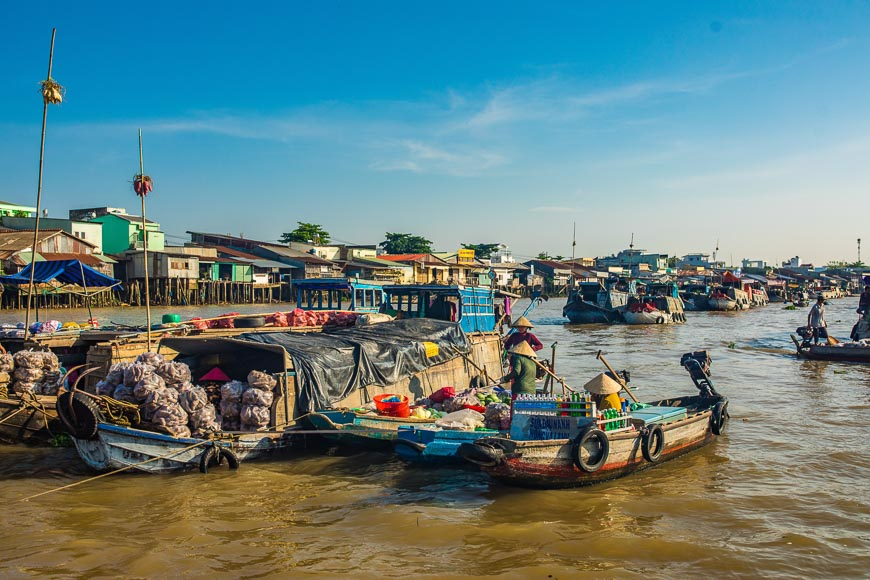 3.3. Phu Quoc island
Phu Quoc island tops in this list for the best places to visit in Vietnam in December. Enjoying warm weather and pleasant sunshine, Phu Quoc is definitely the ultimate paradise for kayaking, snorkeling and diving. Bai Sao Beach is among the most recommended stops on the island with powdery white sand and high possibility of encountering starfish. The island also hosts a national park and an exotic night market.
III. Itinerary for a 12-day Trip in Vietnam in December
The suggested itinerary will be a 12-day trip for a budget traveler moving from North to South. While it's possible to cover most of the best places we mentioned, feel free to drop one or two to have some extra days in your favorite destinations.
| | |
| --- | --- |
| Day | Activities |
| Day 1 | Arrive in Hanoi. |
| Day 2-3 | Visit either Sapa, Moc Chau or Ha Giang, go trekking, flower-watching and enjoy local cuisines. |
| Day 4-5-6 | Fly to Danang, travel to Hoi An by bus. Go for a boat-ride, have your clothes tailor-made and stay for 3 nights. |
| Day 7-8 | If you fancy the beach, fly to Mui Ne to go swimming, sandboarding and take a hot air balloon ride. If you fancy mountains and valleys, fly to Dalat to see the pink grass hills and wildflower valleys. |
| Day 9 | Fly to Ho Chi Minh City and stay for one night. |
| Day 10 | Travel to the Mekong Delta by bus, go shopping at the floating market and visit cajeput forests. Stay for one night. |
| Day 11 | Fly to Phu Quoc island if you haven't visited Mui Ne. Go diving, snorkeling and star-fish watching. |
| Day 12 | Fly back home from either Phu Quoc or Ho Chi Minh City. |
III. Tips on Visiting Vietnam in December
1. What to pack
Traveling southward, you will witness a significant change in weather conditions. When it comes to tips on packing for Vietnam's Northern area, it is essential to pack some warm clothes, long sleeves, jackets and a raincoat. For the South, bring along light clothes, sundresses, sunscreens and a sun hat. Always pack good hiking shoes and insect repellent if you're planning to visit a national park.
2. Hotels and Accommodations
December is among the busiest months for tourism in Vietnam. Make sure you book everything one month in advance to avoid overcharged prices. Flights can be substantially cheaper if booked 3-6 months before.
If you need any further information about Vietnam visa or Vietnam vacations, feel free to contact us at hotlines +84.903.278.853 (available 24/7). Or email us at support@govietnamvisa.com, our Customer-Care Consultants will respond within 2 hours during working time and 24 hours outside working time (GMT+7)