Vietnam visa application - To Whom & How?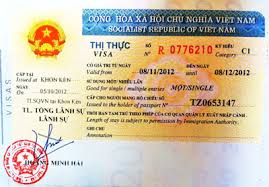 ​What is a Vietnam visa?
Vietnam visa is a stamp glued into a passport to permit the passport holder to enter and stay in Vietnam within that visa's validity time. The validity time (from entry till exit date) is noted in the visa stamp. If the visa expires, the passport holder is required to extend in case he/she would like to stay longer in Vietnam.
Normally Vietnam visa application is done at the Vietnam embassy in the passport holder's country. However, at present, it is easier and quicker for passport holders to make Vietnam visa application because they may apply online for Vietnam E-VIsa rather than traveling to the embassy, which means the visa be stamped into passport at the arrival airport in Vietnam.

To whom is Vietnam visa application required?

Vietnam visa application is required for most foreigners, except those whose nations have signed Vietnam visa exemption with Vietnam. Those countries include Thailand, Laos, Cambodia, the Philippines, Singapore, and so on. Thus, an important note for those who need a visa for Vietnam is "always remember to check Vietnam visa requirements before making Vietnam visa application" so as to see the updated information of Vietnam visa exemption or requirement for citizens from his/her nation.
How many ways to make Vietnam visa application?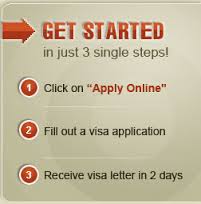 There are now quite a few ways for you to make Vietnam visa application. If you have good command of it, you will find it easy and simple for getting Vietnam visa application, but if you don't, it might make you a bit tired and confused of complicated procedures.
We will hereby list for you all the ways to make a Vietnam visa application with the order from the easiest to the hardest as follows:

1/ Online Vietnam visa application
(for Vietnam E-Visa):
The procedures are very simple:
- You fill in the online Vietnam visa application form & make payment
- Check email to receive

Vietnam E-Visa

in 5 working days (normal service) or 1 day, 2 days, 3 days (urgent service) , 2 hours, 4 hours (super urgent services) or less than 1 hour (Last minutes service) and then print it out
- Get visa stamped on your passport when you arrive at Vietnam entry port
The online procedures only take you 1 or 2 minutes. So, this is now considered the easiest and quickest way of Vietnam visa application.
Note: the online payment you make is the E-Visa fee. You don't need to pay any extra fee when you arrive in Vietnam entry port.

2/ Vietnam visa application
made by your relatives directly at Vietnam Office of Govietnamvisa.com
If you have friends or relatives in Vietnam, you may ask them to help you make Vietnam visa application at the Office of Govietnamvisa in Vietnam as follows:
Govietnamvisa.com (under Vietnam Deltatour JSC)
Add: Room 648, Van Nam Building, No. 26, Lang Street, Dong Da District, Hanoi, Vietnam
Tel: +84.903.278.853
Email: support@govietnamvisa.com
This is surely easier and quicker because the consultants are available there to assist you at best.
3/ Vietnam visa application
made at Embassy
This is a traditional way of making Vietnam visa application. You may directly visit the Vietnam Embassy in your country to apply for Vietnam visa. But this might take longer and requires passport send-off, so it is not preferred as Vietnam E-visa online.
Hopefully, that information is useful for you. If you have any further questions about Vietnam visa or would like to make Vietnam visa application now, please feel free to contact us right away at hotline +84.903.278.853 or email visa@govietnamvisa.com for free guide.