A recent study by the U.K. luxury holiday company Destination2 rounded up the most popular beaches on TikTok using their hashtags, and ranked them based on the number of views, according to cnbc.com.
Nha Trang beach and Vung Tau beach occupied the third and fourth positions with 64.6 million and 61.9 million respectively.
"The third spot on the list went to Nha Trang Beach in Viet Nam. Known as one of the most famous beaches in Viet Nam, it's just 35 minutes outside Ho Chi Minh City. Nha Trang Beach is famous for its scuba diving and crystal clear water," noted cnbc.
Nha Trang beach
Nha Trang beach is one of the famous beaches that tourists will choose to visit when coming to Nha Trang. With an ideal beach length of about 7km, opening up a vast natural scenery for you to experience. You can immerse yourself in the blue water, bury yourself in the fine sand, take a walk along the beach, lie on the sand listening to the waves crashing on the shore or have moments of watching the sunrise and sunset. Not only that, interesting and attractive entertainment activities right at the beach are waiting for you to try and explore such as paragliding, windsurfing, canoeing, flyboard, etc. Sunbathing, building sandcastles or playing beach volleyball will also help you have those wonderful relaxing moments.
Doc Let Beach
Doc Let is the shallowest beach among all the beautiful beaches in Nha Trang. This beach has very small and light waves, so it is quite safe for everyone to swim, including the elderly and children. Therefore, this is also the beach chosen by families to have fun, relax and swim. With 2.5km stretched by rows of blue poplars, casuarina groves, white sand beaches, blue sea water see through the bottom, in the distance there are many surrounding islands creating a very wild character for the place. This. It is hard to forget the specialties with the sweet taste of the sea such as squid, shrimp, snails, crabs, etc., which are still fresh and cooked on the spot for visitors to enjoy and feel the aroma of delicious dishes. There's nothing better than being delicious in front of such a beautiful scenery.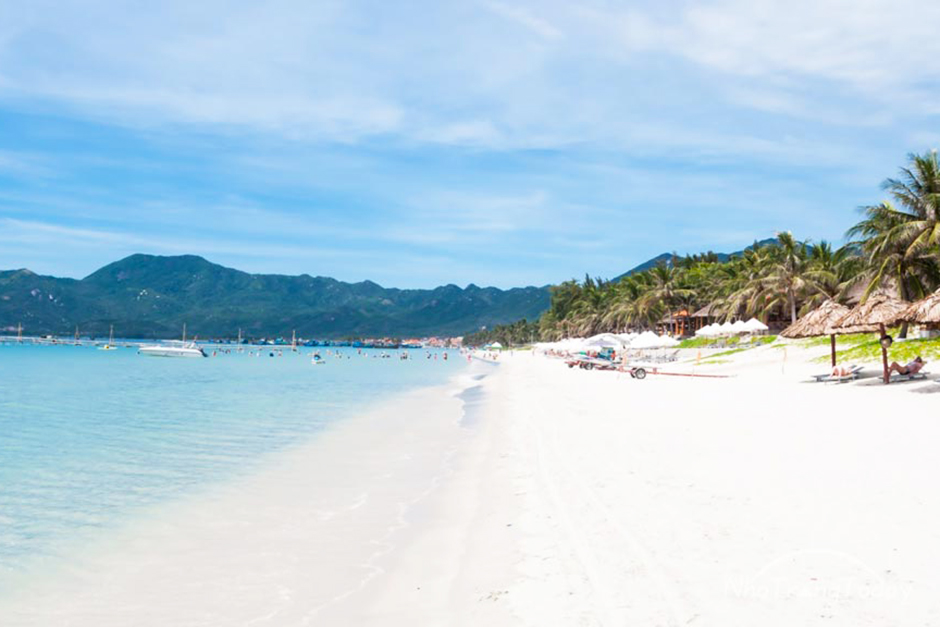 Bai Tru
Bai Tru is located on Hon Tre island in Vinh Nguyen ward, Nha Trang city, Khanh Hoa province. Bai Tru is known as one of the ideal, clear and most beautiful beaches of Nha Trang. Although Bai Tru is located on an island, it does not have many big waves because it is facing the mainland. In addition to bathing in the extremely clear blue sea, sunbathing on the pristine white sand, walking along the shore to collect shells, squid fishing, fishing or diving to catch shrimp, you can rest under the canopy. shade of green trees because around the beach there are many mountain slopes. An ideal resort, leaving behind the hustle and bustle of life. Because of that, when it comes to Nha Trang beach, one cannot help but mention Bai Tru - an ideal resort, leaving behind the hustle and bustle of life.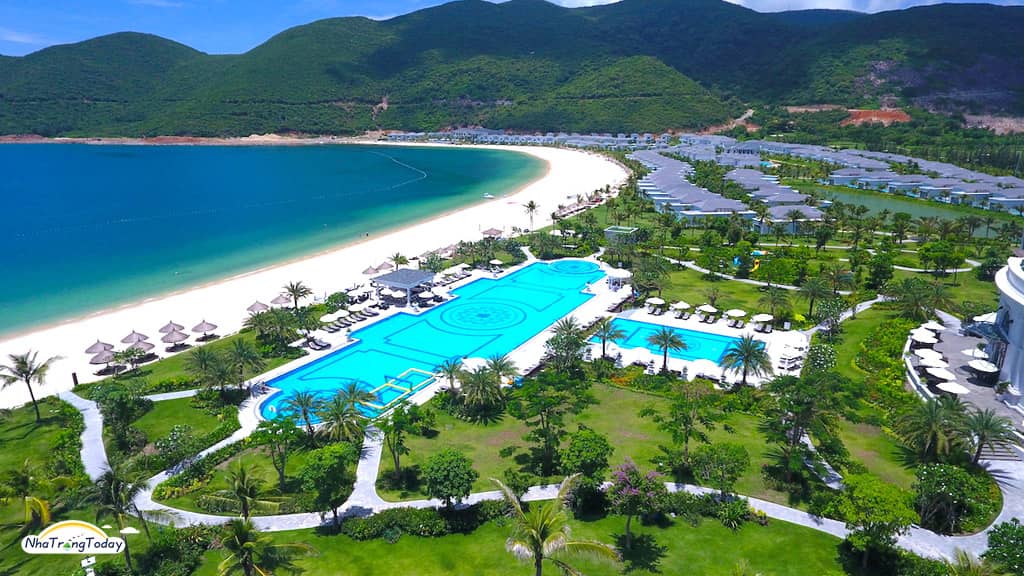 Dai Beach
The sea in Nha Trang is a symbol of purity because there are still many pristine beaches and have never been affected by humans. Therefore, your discovery of Nha Trang will certainly not be complete if you do not set foot in Nha Trang's famous blue sea, white sand beach in the region. Here during the day you will see two skies because the water is as clear as glass, reflecting, hugging the sky high above into the sea, adding dazzling rays of sunlight to make the sea surface sparkling like silver. So Dai beach is also home to a full range of sea services such as canoeing, skydiving or restaurants serving "all" famous seafood dishes of Nha Trang.
Dai Lanh
Dai Lanh Cape is located between the border of Phu Yen and Khanh Hoa, about 80km from the coastal city of Nha Trang and about 30km from Tuy Hoa town. This beach is famous because it is quite wide and long with blue sea water, sparkling sunlight and bustling atmosphere due to busy boats. A definite thing you must experience is to catch the first sunrise on Dai Lanh beach, wait for the first rays of sunlight to emerge from below the sea, an unforgettable landscape picture in the hearts of viewers. awake.
If you need any further information about Vietnam visa or Vietnam vacations, feel free to contact us at hotlines +84.903.278.853 (available 24/7). Or email us at support@govietnamvisa.com, our Customer-Care Consultants will respond within 2 hours during working time and 24 hours outside working time (GMT+7)