Vietnam e-Visa - New way to get Vietnam visa without any barriers since April, 2022
At the beginning of 2017, in an attempt to eliminate the last barrier to foreign tourist, Vietnam e-visa was introduced. Thus, Govietnamvisa has been updated this kind of visa on our website to ease the visa procedures for customers. Since April, 2022, evisa is the best way to help foreigners enter Vietnam without any barriers (fast processing time in 1 day, suitable for more than 80 citizens, available in all airports/seaports/border gates in Vietnam and NO vaccine and NO quarantine request....)

1. What is Vietnam e-Visa?
- Vietnam e-Visa is valid for maximum of 30 days, single entry and tourist purpose; therefore, only travelers stay in Vietnam no more than 30 days and arriving Vietnam once during the trip schedule can get Vietnam e-Visa
- Also, this kind of visa is only valid for the citizens from 80 countries.
- The time to process Vietnam e-Visa application is normally 3 working days.
- The e-Visa is supported for 28 entry gates including 8 international airports, 13 international border gates, and 7 seaports across Vietnam.
- You can arrive and exit Vietnam on any date within this e-Visa duration. However, you have to determine your arrival border crossing or airport before departure. Changing after applying for the e-Visa is not allowed.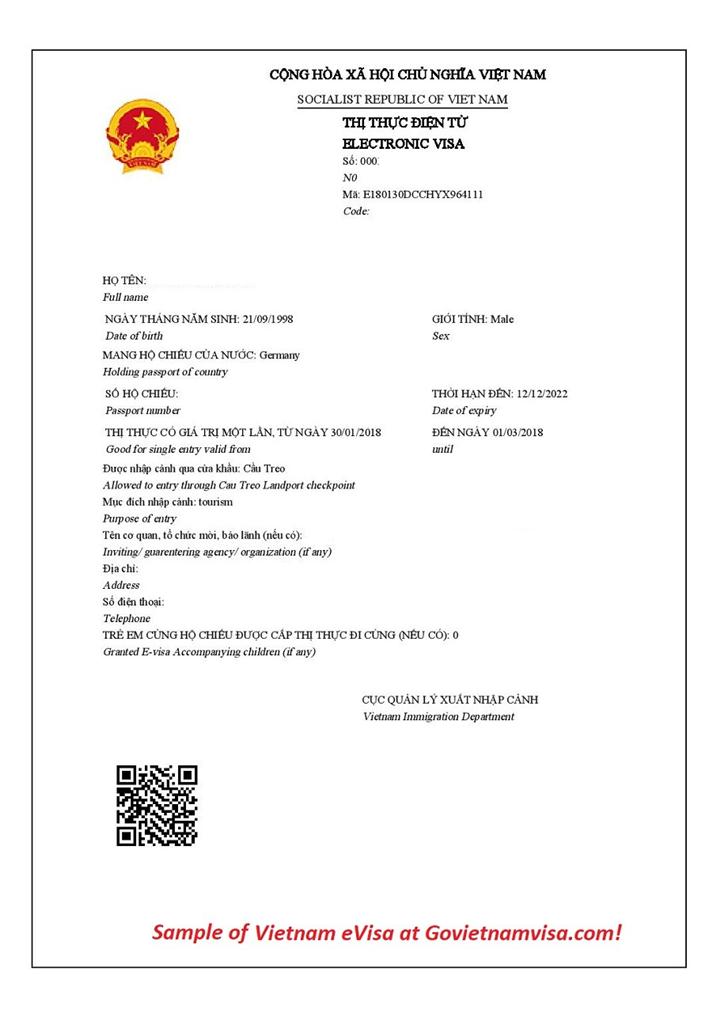 2. Who are eligible for Vietnam eVisa?
Citizens from 80 following countries who are planning to visit Vietnam in a short time without re-entry during the trip can apply for this kind of visa.
| | | | |
| --- | --- | --- | --- |
| Andorra | Bruney | Denmark | India |
| Macedonia The former Yugoslav of | Nauru | Portugal | Spain |
| Argentina | Bulgaria | Estonia | Ireland |
| Malta | Netherland | Qatar | Sweden |
| Armenia | Canada | Fiji | Italy |
| Marshall Islands | New Zealand | Romania | Switzerland |
| Australia | Chile | Finland | Japan |
| Mexico | Norway | Russia | Timor Leste |
| Austria | China | France | Kazakhstan |
| Micronesia Federated States of | Palau | Samoa | United Arab Emirates |
| Azerbaijan | Colombia | Georgia | Korea (South) |
| Moldova | Panama | San Marino | United Kingdom of Great Britain and Northern Ireland |
| Belarus | Croatia | Germany | Latvia |
| Monaco | Papua New Guinea | Serbia | United States of America |
| Belgium | Cuba | Greece | Liechtenstein |
| Mongolia | Peru | Slovakia | Uruguay |
| Bosnia and Herzegovina | Cyprus | Hungary | Lithuania |
| Montenegro | Philippines | Slovenia | Vanuatu |
| Brazil | Czech Republic | Iceland | Luxembourg |
| Myanmar | Poland | Solomon Islands | Venezuela |
Important Notice:
The entry port must be exact and cannot be changed once the visa application is submitted to the Immigration Department
| | | |
| --- | --- | --- |
| Can Tho international airport-Can Tho | Song Tien land port- An Giang | Cha Lo land port- Quang Binh |
| Da Nang international airport-Da Nang | Tinh Bien land port –An Giang | Bo Y land port- Kon Tum |
| Noi Bai international airport- Hanoi | Xa Mat land port-Tay Ninh | Lao Cai landport- Lao Cai |
| Phu Bai international airport-Hue | Mong Cai land port-Quang Ninh | Ho Chi Minh Seaport-HCM City |
| Phu Quoc international airport-Phu Quoc | Moc Bai landport-Tay Ninh | Quy Nhon seaport-Binh Dinh |
| Cat Bi international airport-Hai Phong | Lao Bao land port-Quang Tri | Nha Trang seaport- Nha Trang |
| Tan Son Nhat international airport-HCM city | Ha Tien land port-Kien Giang | Hai Phong seaport- Hai Phong |
| Cam Ranh international airport-Nha Trang | Huu Nghi land port-Lang Son | Hon Gai seaport- Quang Ninh |
| Nam Can land port-Nghe An | Cau Treo land port- Ha Tinh | Da Nang seaport-Da Nang |
| | | Vung Tau seaport- Ba Ria-Vung Tau |
3. How much does it costs?
It costs from USD 65 for 1 month single eVisa to Vietnam, no hidden fee or any additional fee at the airport/border.. Payment can be paid by credit card, Paypal, Bank Transfer or Western Union.
4. Vietnam e-Visa - Processing time?
With Vietnam e-Visa, all the applicants will be granted with an e-Visa in 1 working day- 2 working days 3 working days for urgent service or 5 days for normal one.
Especially with our Unique Non-working time service, an e-Visa will be granted on time even when you have only a few mintues/hours before check-in time.

Note: You can click on this link to find more details about the difference between Vietnam Visa on Arrival and Vietnam e-Visa and then choose the best option for you.
5. How to apply for Vietnam e-Visa?
To apply for a Vietnam e-visa, customers must fill in the online visa application form which is partially similar to the form of Vietnam visa on arrival then choose the type of visa as Vietnam E-visa.
The Vietnam e-Visa's procedure is quite simple as following:

Before getting on board:
Step 1: Fill in Vietnam visa application form online after choosing Vietnam eVisa at govietnamvisa.com/step_1

Step 2: Make online payment for the approval fee

Step 3: Check email to provide some additional information/documents, then get Vietnam e-Visa via email after 3 days and print it out
Upon entry in Vietnam airport:
Travel to Vietnam and then use the eVisa at the ports of entry.



That is it! Welcome to Vietnam and have a good time!!!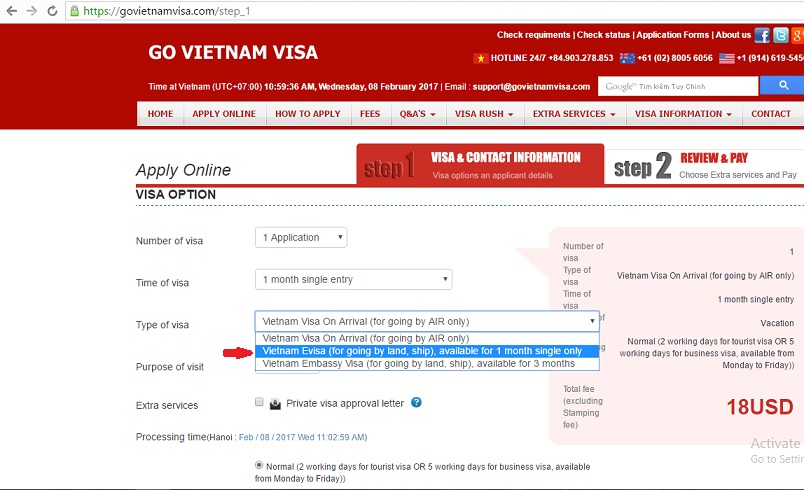 6. What is the benefits of Vietnam E-visa?
Vietnam e-visa works the best for travelers who are arriving at land or sea ports due to the fact that there is no visa stamp service at the land/sea border. Thus, if customers pay a visit to Vietnam via land/sea ports but unable to access Vietnam Embassy to get Vietnam Embassy visa, you can take advantage of Vietnam E-visa which costs only USD45/visa for normal service. However, for visitors traveling by air, Vietnam E-visa should also be considered because of the obvious advantages below:
1-No need to travel to Embassy or send-off the passport
2-No extra fee upon arrival (the visa stamping fee will be included in the online fee)
3-No need to wait for stamping upon arrival (but still need to wait for identification checking)
With Vietnam E-visa, applicants will be granted with a visa approval letter after 3 working days. The letter then must be printed in advanced and submitted at the border when the applicant turns up at the port of entry.

7. Advantages of apply Vietnam evisa with us?
The mission of Govietnamvisa.com is to make immigration to Vietnam simple and affordable for you and your family
3 online easy steps to submit your application
Reasonable price. No Hidden Charges.
Refund 100% fee if visa declined.
Application Guidance with Immigration Experts
Your applications and documents will be properly reviewed, prepared and submitted on your behalf by our immigration experts.
Contact Vietnam Immigration Department to edit/change information in approved evisa (arrival date, arrival port...)
Urgent visa processing
Get urgent Vietnam evisa in non working time (night time, lunch time, holiday, weekend...) or in 1-2 working days.
Govietnamvisa.com will provide you with high level customer service 24/7
You will receive status updates and answers to your questions 24/7
7+ years experience: Since 2014, we have assisted over 100,000 travelvers successfully get Vietnam visa
For further details or instant response, please contact us:
- Address: Room. 648, Van Nam Building, Lang Street, Dong Da District, Hanoi City